With an intensity and commitment that dominates the screen, this English player seems to achieve the ultimate; the compleat actor.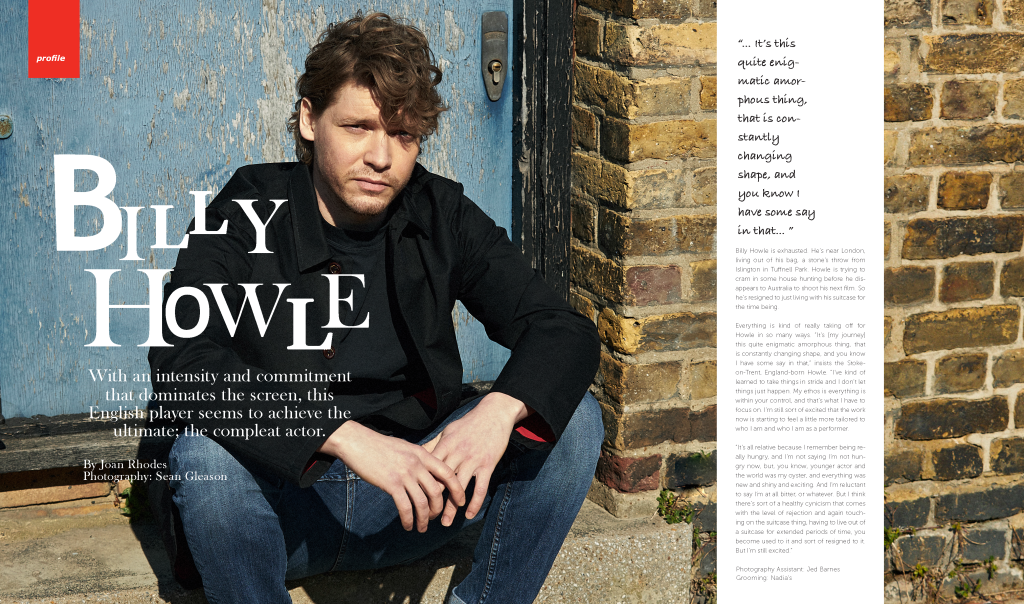 By Joan Rhodes
Photography: Sean Gleason
Photography Assistant: Jed Barnes
Grooming: Nadia's
"… It's this quite enigmatic amorphous thing, that is constantly changing shape, and you know I have some say in that…"
Billy Howle is exhausted. He's near London, living out of his bag, a stone's throw from Islington in Tuffnell Park. Howle is trying to cram in some house hunting before he disappears to Australia to shoot his next film. So he's resigned to just living with his suitcase for the time being.
Everything is kind of really taking off for Howle in so many ways. "It's [my journey] this quite enigmatic amorphous thing, that is constantly changing shape, and you know I have some say in that," insists the Stoke-on-Trent, England-born Howle. "I've kind of learned to take things in stride and I don't let things just happen. My ethos is everything is within your control, and that's what I have to focus on. I'm still sort of excited that the work now is starting to feel a little more tailored to who I am and who I am as a performer.
"It's all relative because I remember being really hungry, and I'm not saying I'm not hungry now, but, you know, younger actor and the world was my oyster, and everything was new and shiny and exciting. And I'm reluctant to say I'm at all bitter, or whatever. But I think there's sort of a healthy cynicism that comes with the level of rejection and again touching on the suitcase thing, having to live out of a suitcase for extended periods of time, you become used to it and sort of resigned to it. But I'm still excited."
For Howle, that excitement as a performer started in the theater. One of four sons from academic parents, Howle worked in community-based projects involving dance and acting at the Stephen Joseph Theatre in Scarborough, North Yorkshire, England. After a year at drama school, he enrolled at the Bristol Old Vic Theatre School, graduating there in 2013. Having appeared at Bristol in The Little Mermaid, his next stage appearance would take him to New York City at the Brooklyn Academy of Music opposite Lesley Manville in Richard Eyre's production of Henrik Ibsen's Ghosts. One year later, Howle would find himself in a production of Long Day's Journey Into Night alongside fellow Bristol alum Jeremy Irons.
On the screen, you've no doubt seen Howle before, most recently in the eight episode true crime drama mini-series The Serpent on BBC One, where Howle portrays Herman Knippenberg, the Dutch junior diplomat who played a role in building a case against French serial killer Charles Sobhraj. Howle also played Prince Edward of Wales opposite Chris Pine in 2018's Outlaw King, Rey's father in Star Wars: Episode IX – The Rise of Skywalker (2019), On Chesil Beach (2017) and Anton Chekhov's The Seagull (2018) both opposite Saoirse Ronan, and as a petty officer in the war epic Dunkirk (2017). That tailoringis paying off for Howle, as he currently stars in Infinite Storm opposite Naomi Watts. The film follows an experienced mountain climber who reaches the summit of Mount Washington as a blizzard approaches. After encountering a stranded man, the duo race to get down the mountain before nightfall.
Howle said he was sent a script and it all happened so fast. He was flown to Slovenia. "We're talking about mountains, a survival story, a rescue story. And it's an adventure." Director Małgorzata Szumowska and Howle got on a zoom and she told him she wanted him in the film. The character he'd be playing is suffering a mental health crisis who is found by Watts. Depression, suicide. Topics Howle does not take lightly. "I think it's a real thread [mental health] that's common enough amongst human beings that it ought to be discussed openly and in as many ways as possible," says Howle. He went through a physical transformation for the role, putting himself on a strict diet and lost quite a bit of weight (It's interesting what that does to a person's psyche.) After arriving in Slovenia ( which doubles for Washington State in the movie) the cast was introduced to the landscape and the vistas were so beautiful; the sheer expanse and vastness.
This sheer unspoilt beauty of the mountainous terrain prompted the topic of climate change and how these mountain views may not be so accessible in 20-30 years time. It is something not lost on Howle. "I was watching the news today and they were talking about how most of what's happened with climate change is now considered irreversible damage. Something that scares me the most is the idea that you've gone to a ninth degree to the point of no return. To figure out probably what that absolute is. So when we're presented with either in the immediate sense, a change in weather system, and we sort of on some innate level understand that may be the point that we may no longer go back. It's no longer this sort of residual or under lying fear, it's something that's very present. I look around and I think how much energy am I actually using, why do I have this, why do I consume so much of this, do I really need all of that? What have we done, what have I done? It starts to become a real existential question in an immediate sense and in a sense in the wider world, sort of the people that I love. The people that I know live in parts of the world that would be much more severely affected and much more quickly."
Howle's latest offering to hit the small screen – "Under The Banner Of Heaven", Hulu, April 28th – is the serialization of Jon Krakauer's best selling examination of the Church of The Latter Days Saints. He plays Allen Lafferty, whose wife and baby are victims of ritual murder perpetrated by two of his older brothers after receiving direct instructions from God. How do you prepare for a role so full of horror? "it is perhaps usual for a younger sibling to 'look up to', if not idolise an older brother. I like to think, a lot, then simmer, distract myself with other things, let it brew or stew, sometimes even ferment, then read the script again. It's something like being in the kitchen without a recipe book…. I keep coming back to the idea that behind the tragedy in Allen's story, there is a deeper seated tragedy. The tragedy of the loss of a personal philosophy. The death of believing in something,"
When I talk with Howle, there is an uncanny resemblance to Michael Shannon (who I have also interviewed) in their passion, commitment and their approach to the craft of acting, an understanding of the characters they portray— a lot of processing of the nuances of a particular role.
Howle, who is heading to Australia to film a boxing movie, insists that his approach has to be authentic.
"You've touched on something I think about quite frequently, which is the fear of appearing stupid and I think one of the most intelligent responses you can have as a human being, and decidedly as an artist, is to admit you don't know the answer. And so what you end up with is more questions. I don't make a distinction between the work itself and conversations such as the one we're having now. I think the pursuit is the same for me. It has to involve the same level of honesty I have to bring to my work. Why would I change and suddenly present to you a matter of fact version of myself? I feel like I would be lying."
Howle is in his thirties and his thinking on that has started to change in regards to future projects—he wants to feel comfortable albeit choosy when looking at his next roles and not get caught up in the Hollywood machine. He certainly does not come across a 'just hit your marks & grab the money sort of guy.
"For me the key thing is really I want to collaborate with people who recognize and understand me for who I am as an artist and a person and that has to be reciprocal for me. I have to understand them too on a deep level. I'm less interested in the sometimes vacuous nature of what we do. So I try to keep that at arm's length or take it with a pinch of salt. I'm not made for that. I want to tell really important stories, possibly even help write them or at least piece them together in a meaningful way. And I think that that really excites me. I also love the idea of being behind the camera capturing things. I love the this sort of interrelational thing."
Billy Howle has an honesty to be envied… and the courage not to be scared of it.
Watch this space!