By David Munro
Photography: Mathieu Young
Focus is the keyword for Santiago Cabrera, an actor just coming into his own. It's a profession he chose carefully and pursued with no family influences to lean on or learn from. Basically, no one in his family was remotely connected to the business. Far from it.
"…I think the key is to find a way where you can be a good influence and try and have everyone listen to you; be in a position where both sides will hear you so you're not just kind of preaching to the choir. I am trying to figure that out…"
His father is a diplomat so for Cabrera growing up, you were either going to study law or the economy. There was nothing in between. Living abroad in so many different countries —he counts Toronto, Chile, Spain, Romania, UK as places he's called
home—he was always a shy kid, observing, trying to fit in, always looking to blend amongst his peers and not stand out, never one to ruffle feathers and make a scene. So he turned to acting, did a play, and was hooked right away, caught the bug, then
on to drama school, the place that changed him and set him on his path. He then started to discover plays from all eras, started to study the history of acting by watching old movies and getting to know the craft of acting. "I feel like my life had prepared me very much for this moment."
That moment is Star Trek: Picard. The web series from CBS All Access follows captain Jean-Luc Picard and stars Patrick Stewart, reprising his role from the series Star Trek: The Next Generation, which ran from 1987-1994. The new Picard premiered in January and ended in late March. Trekkie fans are in luck: production on the second season starts during the summer, Covid-19 be damned. Cabrera plays Cristobal "Chris" Rios, a former Starfleet officer. The series came in at the right time for Cabrera, a pilot season. He had just finished work on a show called Salvation, a CBS series which aired for two seasons and whose storyline centered around earth's impending doom from an asteroid. Cabrera was the lead and played scientist Darius Tanz. When he was auditioning for the Picard role, he wasn't necessarily a Trekkie but knew that having Sir Patrick Stewart as the lead was a huge incentive, as Stewart shot to fame with the role in TNG. With Michael Chabon involved as a writer on the show, it was a win-win in Cabrera's eyes. "I found that [the script and premise] super interesting because I knew that there would be a whole different angle and type of storytelling so I was engaged in it," said Cabrera. "I'm in love with what they've written, what they've done with the show. I've had so much fun with this character."
Cabrera is aware of the standards that the show must reach to please worldwide Trekkie fans. After all, the legions of sci-fi fans are considered a cult, collectors and enthusiasts that are credited with being the original TV groupies after the 60's television series. As much as the special effects and visuals have to be up-to-the-standards of the global fan base—the show consults with scientists that bring every detail to life—the storytelling was and will be just as important. "You sort of have to live up to the standards of what audiences are expecting so you want your audience to be captivated by those lines—and to do that you have to have a great story and great cast."
But for Cabrera, the thought of rocketing to the moon or even Mars is for television only. In his view, he'd like to rocket towards a cleaner earth before venturing out into the unknown for a deep space exploration. Focusing on people's future on this planet in regards to climate change—and not extraterrestrials—is a huge concern. "I feel like there's a lot we need to focus on our planet and fix our planet first before we should even start venturing out, but definitely I am extremely fascinated by the world of science. There are people who go to Antarctica, people who go to these extreme places to see first-hand what's going on and how the ice is melting. The world has been catching on, but hopefully it's not too late. I think it's very important to keep not just the conversation going, but to act and participate and do as much as we can for the planet. I have a child and you want their future to be an earth that is sustainable and a planet that's going to be safe. It is definitely the most pressing issue today."
Today Cabrera is in Boston filming Godmothered, a Christmas comedy starring Isla Fisher, a fun family film. He'll then be home in Los Angeles to prep for the second season of Picard. He's not one to lose out on this opportunity; Picard will be opening more doors and he's going to take full advantage of it. Meaning, he's not done.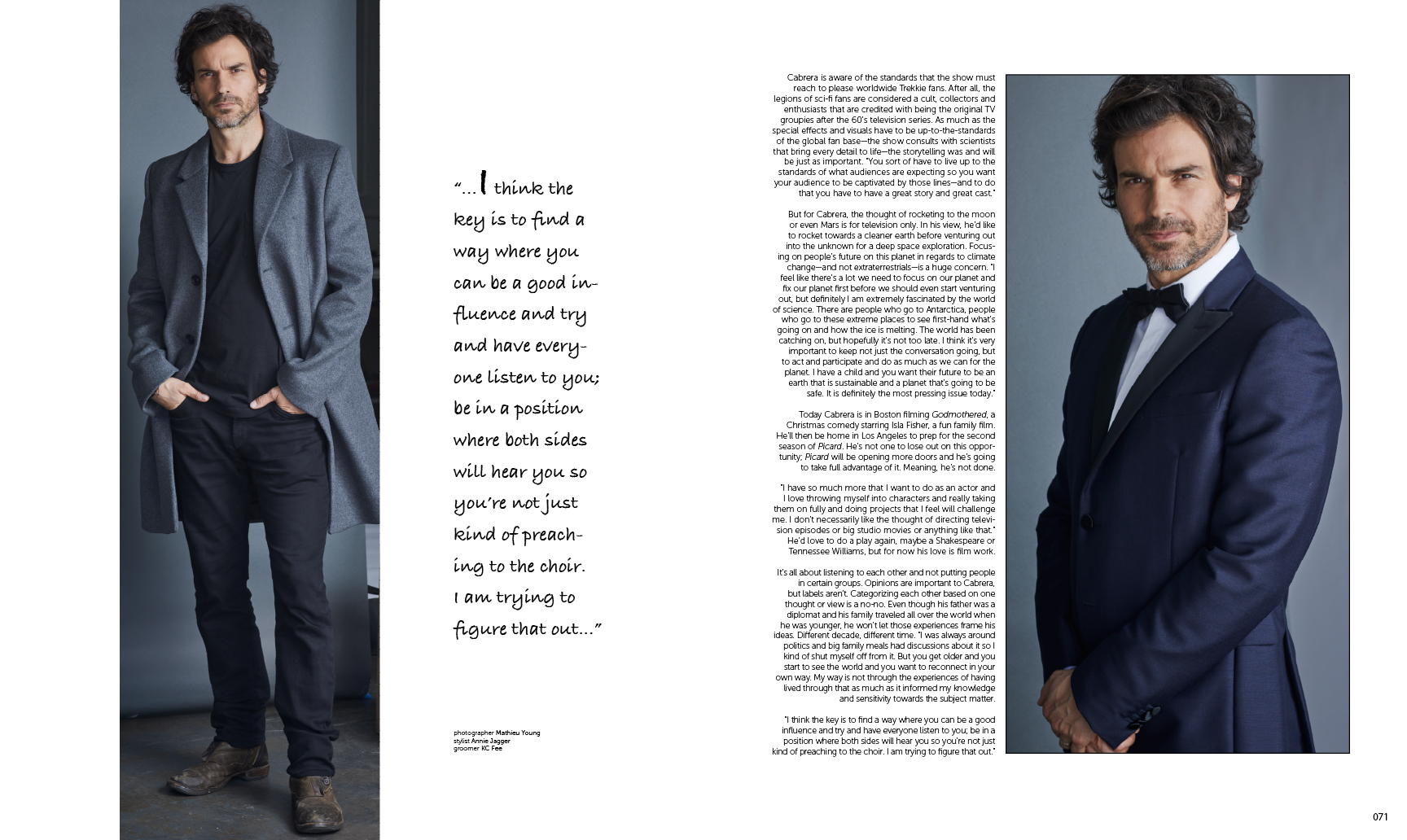 "I have so much more that I want to do as an actor and I love throwing myself into characters and really taking them on fully and doing projects that I feel will challenge me. I don't necessarily like the thought of directing television episodes or big studio movies or anything like that." He'd love to do a play again, maybe a Shakespeare or Tennessee Williams, but for now his love is film work.
It's all about listening to each other and not putting people in certain groups. Opinions are important to Cabrera, but labels aren't. Categorizing each other based on one thought or view is a no-no. Even though his father was a diplomat and his family traveled all over the world when he was younger, he won't let those experiences frame his ideas. Different decade, different time. "I was always around politics and big family meals had discussions about it so I kind of shut myself off from it. But you get older and you start to see the world and you want to reconnect in your own way. My way is not through the experiences of having lived through that as much as it informed my knowledge and sensitivity towards the subject matter.
"I think the key is to find a way where you can be a good influence and try and have everyone listen to you; be in a position where both sides will hear you so you're not just kind of preaching to the choir. I am trying to figure that out."
photographer Mathieu Young
stylist Annie Jagger
groomer KC Fee