Leslie Bibb
With grace enough for Monaco Leslie shows her class…
& street cred
Everything is moving so quickly for Leslie Bibb now as we slowly crawl out of the pandemic. The years 2020 and 2021 are long gone–remnants and ghosts remain–now 2022. Bibb remembers it being 2021 and the world shot back like a boomerang, a slingshot into a sort of "We're back, we're doing work, we're doing other stuff!" She remembers 2021 being apart from Sam [the actor Sam Rockwell, her boyfriend of over a decade] and their work taking them all over. "I remember thinking, 'I long for 2020.' Sam and I have this thing we call a three-week rule where we're not apart for more than three weeks." But then it was 2020. "It felt very apocalyptic sometimes. There were some beautiful times out of it so it's very strange. I think it's gonna take me a long time to sort of unpack all the lessons of the last few years."
Lessons that have garnered Bibb, 47, a packed schedule and healthy project list. She first burst into our lives starring in the WB show Popular (1999-2001) then The Skulls with Joshua Jackson and the late Paul Walker. Bibb also appeared in the indie-darling Wristcutters: A Love Story (2006) which was nominated for the Sundance Film Festival's Grand Jury Prize, two Independent Spirit Awards and the Humanitas Prize. Bibb followed that up playing opposite Will Ferrell and John C. Reilly in the comedy Talladega Nights: The Ballad of Ricky Bobby. Sprinkle in her roles as a reporter in Iron Man (2008) and its Iron Man 2 sequel (2010), the Clive Barker-inspired horror film The Midnight Meat Train (2008), the comedy Confessions of a Shopaholic (2009), the thriller film Law Abiding Citizen (2009) opposite Gerard Butler, and Bibb has made a career of memorable performances in a wide range of films: indies, comedies, blockbuster Hollywood money-makers. Meaning, her versatility knows no bounds.
Fast forward to 2022. Bibb is set to star as Satan in God's Favorite Idiot, a Netflix comedy series starring Melissa McCarthy and created by (and starring) McCarthy's husband, actor Ben Falcone. The series is scheduled to premiere on June 15. In the beginning of 2021, Bibb got cast in the series and it was her first big role during the pandemic. "We had sort of been shut down and I remember thinking, 'Do I remember how to act? What is that?' Getting to go to Australia [to shoot] and getting to work with Melissa McCarthy and Ben Falcone. I said to Melissa, 'My hands were shaking on my first day shooting with you.' I remember feeling grateful and lucky and we were in Australia, just sort of pinching myself thinking wow my life has led to this moment. Sometimes it's a shitty moment, sometimes it's a great moment, sometimes it's a weird moment. My life got lucky enough that it all met at this point and it was really cool. And then [during a scene] I threw hot dogs at Melissa McCarthy.
"I think I have to have a hook into a character so if I have a very strong idea and I have I'm like a thoroughbred. I'm like 'Let's go, let's ride,' don't hold me. I'm not a wing-it sort of person. I do a lot of prep and there's a lot of research and work done, but if I'm prepared I have my toolbox filled with all kinds of ideas and tools to whip out at any moment."
Bibb, a Virginia native who studied acting in New York, will also star this summer in Lionsgate's About My Father, a screenplay written and starring comedian Sebastian Maniscalco and loosely based on his relationship with his real-life dad. Robert De Niro and Kim Cattrall also star. She got her first true experience of being Hollywood starstruck on the Talladega Nights set. "I remember feeling very safe and yet I was very scared there," insists Bibb. "It was Molly Shannon, Will Ferrell, John C. Reilly and Adam McKay was directing and Sacha Baron Cohen and I thought, 'I'm in deeper than I should be. Do I know how to swim?' I remember McKay said, 'Never sit on an idea, just try it. Because even if it's the wrong idea it may lead to something else.' It just stuck with me so much because I think we edit ourselves. I mean it's so ironic that we have phones, there's filters on this stuff–I didn't even know there's this thing called Facetune. You can facetune yourself where you can literally change your face."
Bibb was lucky to be brought up in an environment that taught her to speak her mind. Raised by her mother with three older sisters–Bibb's father passed away when she was three–gave her a sense of womanhood and surrounded by so many women, everyone wanted their voice to be heard. "My mother just always taught me to speak if something didn't feel safe, she was very matter of fact about everything and so luckily I had somebody who always was like, if it doesn't feel good. I remember she said something like, 'You've got really good instincts. Always trust your instincts.'"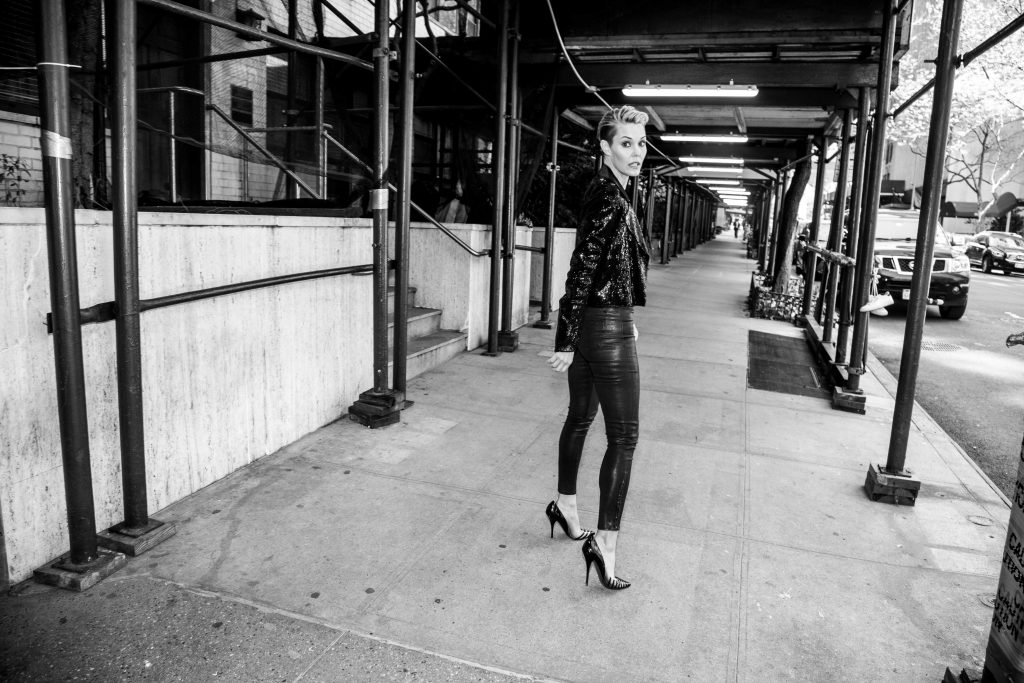 With Roe V. Wade making the news again for all the wrong reasons, Bibb feels like most women do: lay off my body. "I want to make the decisions about my body and I feel like every woman should have that opportunity. And I think you can be pro-choice and not have to be pro-abortion. I think that it's easy to sit there and be like, 'Well this is what we should do and this is what we should do and this is what we should do'' and everything is a singular experience and it's not black or white, but there's a lot of gray area. A lot of women paved the way for us and it feels unfair to reverse this right now."
On the ongoing Russian invasion of Ukraine. Although it is inspiring to watch the Ukrainians defend themselves from an aggressive invader in Russia, Bibb is left speechless. "I can't put it into words how I feel because I have so many feelings about it. It also feels insane, it feels like–to me it's a lot, it's upsetting. I remember watching when all of it [the invasion] first happened and it felt very 9/11 and I remember sitting in front of the television and I couldn't watch it… it's still taking place.
"I feel gobsmacked by it all. I don't know if it's anger, it's just shock and sort of, it feels like a rug has been pulled out and I feel powerless. And I hate feeling powerless. What do you do? You vote. That's the only thing to do, you vote."
Bibb is not naive to seeing the great divide in this country and like many Americans, is in search of a solution to unite. "I think there's always going to be somebody who feels differently than I feel and so what I try to do is instead of feeling like my way is the right way, what's the bridge? Because we're just going to have this two-sided world and it makes me feel like I'm on an island. It really makes me feel powerless and alone and that feels just depressing.
"…Slow things down, take your time. Especially in New York City… It's specific to New York City–
There's this magic to this city that doesn't exist anywhere else…"
So how do I find my power, how do I find my fight? How do I create change, you know. How do I be fearless in a time that makes me very fearful? And so that's the thing that I'm still trying to grapple with."
From modeling to acting to producing, Bibb looks back at her life that brought her to New York.
I'm in awe of Bibb. In awe of her passion, really. She wears her heart on her sleeve. I enjoy watching her react because she reacts with such passion, reacts within the moment. It's a rare trait. It's so authentic, and it's so real. She's still pushing the rock up the hill and that's okay. Bibb's old-school, doesn't want to miss out on life's enjoyment because her head was stuck in a phone. Slow things down, take her time. Especially in New York City. "It's specific to New York City–like the movie theater, the walking in the street, running into random friends. There's this magic to this city that doesn't exist anywhere else.
"I think just because you go fast, maybe you'll get there faster, but you've missed the whole journey."
Photographer: Spencer Heyfron @spencerheyfron
Stylist: Cannon @thecannonmediagroup at The Only Agency @theonly.agency
Talent: Leslie Bibb @mslesliebibb
Fashion Assistants: Winnie Noan @winnie_noan, Bridget McDonald @bridgetmcdd, Mackenzie
Boudman @kenzieboudman, David Goldberg @indigoboydavid