by Zoe Stagg
photography by Jim Wright
"…the true power of a woman isn't the gun. Women have always been really good at peace. If you look at all the wars in the world and you look at all the bloodshed, the grand majority of the people in jail for murder—it's a male industry."…"
The Queen of Hollywood ass-kicking knows a few things about fury. "Violence is a male industry. It's a male invention." Sticks and stones break bones, but the 'why's' matter. "More times you'll find that the women will have some sort of really powerful reason for their violence, and ethically-based, usually. You know what I mean? Like, crossed the line one too many, don't mess with the children, or you removed my livelihood—it's always about community with women." When you've spent a career slaying the baddest beasts in tons of blockbusters, speaking your mind is nothing to be scared of.
Michelle Rodriguez is often seen on screen with a dark glower that can stop traffic, but in real life Rodriguez is softer. Her voice is casual and low, with an easy laugh always loaded. From her breakout role as a boxer in 2000's Girlfight, through tough turns in Machete and Battle: Los Angeles, to the epics Avatar and The Fast and the Furious saga, Rodriguez hasn't let her guard down. "The grand majority of my body of work has to do with action, mostly this kind of alpha female. It's the armor that I've been wearing for 15 years." It's a tough exterior that Rodriguez feels like she's outgrowing. "I think my heart is softening as I get older. I think that right now, I'm about discovering my femininity. Most women at my age would be discovering their masculinity," she lets out a short laugh, one of the countless that seem right at the surface. "I'm over here softening up. It's a crazy process, and it will start to show in my work. I look around, and I see nowhere else to grow in the action movie realm, aside from maybe doing my own feature one day. I'm starting to poke my nose into a more feminine persona."
Interested early on in directing and screenwriting, is this shift one she's willing to engineer herself? "Heck yeah! I feel a massive amount of pressure to do that, and I think it's self-inflicted of course. I feel like an energy, like a massive force kind of straining to be heard. It's something I can't quite put words to, but it's definitely feminine." This energy could be what blasts through that armor. In Alita: Battle Angel, a cyberpunk action movie set for early 2019 release, she's paired again with Robert Rodriguez and James Cameron. She plays a "cyborg warrior and Motorball player." Not quite a shrinking violet knitting and sipping a cup of tea? She laughs, a genuinely delighted and rueful kind of 'what is this life?' chuckle. "It's not going to happen overnight, that's for sure! I established something 15 years ago, and I think I'm going to be called upon for that again and again."
She has another turn in Widows, written by Gillian Flynn and directed by Steve McQueen, this November. This time, the strength sits differently. "I think this movie is going to surprise people, just in the sense that I think it's showing the true power of a woman isn't the gun. Women have always been really good at peace. If you look at all the wars in the world and you look at all the bloodshed, the grand majority of the people in jail for murder—it's a male industry." With a cast that includes Viola Davis, Widows has wives picking up where their criminal husbands left off and that juxtaposition is stark. "I find it intriguing, because you can see that in this film very clearly, the difference between soft power and a masculine kind of physical, violent power, and what the intention behind it is. Usually with guys, it's money, or what's the car that I could get, or the power that I could get? And with women, it's like 'How do I take care of my kids?' or 'How can I provide safety and security?' It's different, it's more community-based.
Known for her role as Letty Ortiz in The Fast and the Furious films. Even though the series has added women like Charlize Theron and Helen Mirren, Rodriguez wants more—more plot, more camaraderie, and an evolution that allows room in the story for everyone. "It would be interesting! It would be nice to see their stories. Because I can count with both hands how many times I've talked to my female colleagues in the franchise. We barely talk about anything other than the guys."
With eight films in nearly two decades, the Fast franchise lives in a world very different than its 2001 roots. "I just feel like I need to be all about the women right now. That's what I plan on doing. If that road doesn't merge, then I'm going to have to go elsewhere because that's where I'm going, no matter what." Car metaphors may be closer than they appear, but she's not angry, she's matter-of-fact. There's power in knowing what you want and the self-assuredness to wait for it. "I just hope there's love there, and that they show it."
Whether or not Fast shifts, change is coming to Hollywood. "I can smell it! Even when I'm in meetings and they're talking about directors, they're leaning more toward female directors." Emboldened by a chorus of defiant hashtags and fearless marches, women are taking back their time everywhere. "There's a voice that hasn't been heard. Everything has always been meddled with. Guys deciding what everything is going to be, and not really giving females a voice, and I find that kinda sad." It's not only change to benefit those with something to say, there's a ravenous need for the message, one even a bottom-line driven entertainment machine should value. "We shouldn't be begging for our voices, this is a market. And you're not feeding that market, there's a hole in the market. Nobody is asking to take away from what you guys are doing, we're just saying 'Hey, can we feed our own market instead of you guys telling us how to feed our market?'" It might take work, it might take some bold experiments, but an equal voice to women in Hollywood is an exciting frontier and she's digging the powerful vibe. "This is all new. We're all pioneering. We're setting flags on stuff."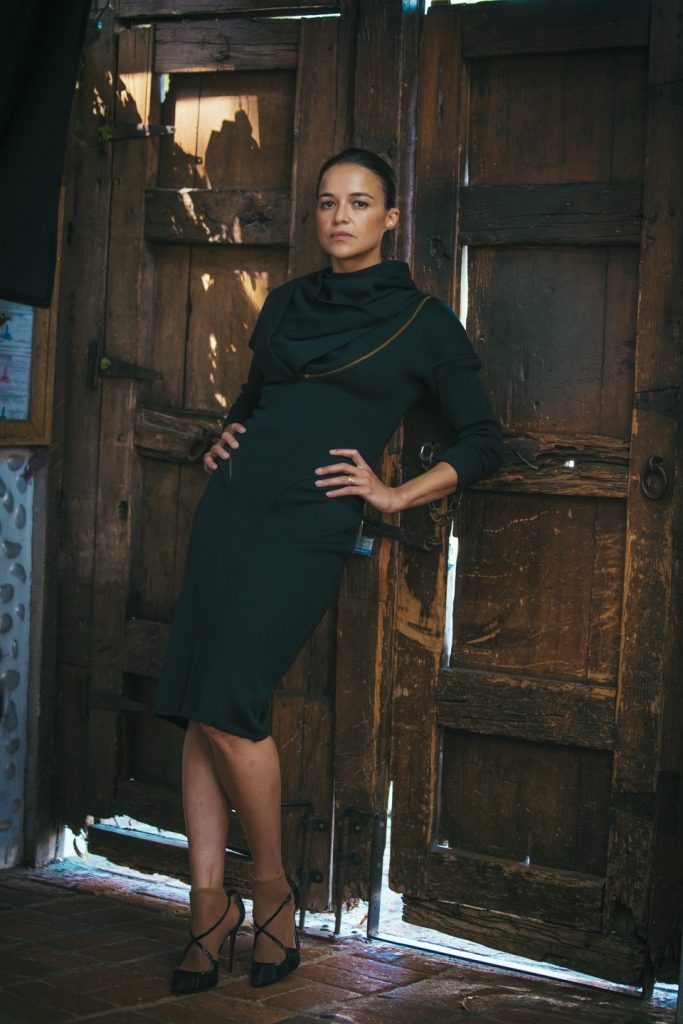 She's not content to settle for the status quo in her career, or the real world for that matter. Rodriguez is a tireless crusader for causes from amfAR to Elephants Crisis Fund to the People's Climate March, she is out there advocating. Her biggest focus lately has been relief for Puerto Rico, still reeling from Hurricane Maria. She partnered with Omaze to benefit Taino Warriors, an organization designed to help underserved communities with sustainable solutions. "My friend Yvette Rodriguez, she was talking to me about the situation in Puerto Rico and how it was getting worse, she mentioned the corruption that was happening, and she brought forward the idea of a fund where she would actually go out there and find the boots on the ground to hand the money directly to individuals in Puerto Rico who want to help their environment and want to making things better after the hurricane." It's a problem bigger than just getting aid into the country, they have to fight corruption to get it inland, to the people who are suffering without infrastructure and no tourism incentive to spur action.
From that conversation, "She said, 'I got solar panel guys, we can get them to plug in and have electricity, they don't have to wait for the infrastructure to be built,' and I was like 'What can I do?'" Through social media and the platform of celebrity, Rodriguez gave a day of racing supercars and partying in Vegas to raise money. She's not as interested in why Puerto Rico is still suffering more than a year after the storm, as she is in what she can do. "It gets political. I don't like to get involved in that stuff—I'm just like, 'What's the problem and how can we fix it? What kind of relief can we provide?'"
It's the same enthusiasm and desire she gives to everything. Scroll her Instagram and it's not movie baddies she's slaying, it's life. "It's a gusto!" she says, in that voice of a friend who's always calling with their next amazing plan. "I'm just grateful to be alive, and I'm just trying to seize the day when I can. I think it comes from a hunger to grow. I'm always trying to learn something new, or put myself in a place I haven't been before, so that I can evolve. My whole motto in life is evolve or die."
"Evolve or die." Badasses unite, your Queen has spoken.

photography by Jim Wright
stylist Jeff Kim @ the only agency
hair Christian Marc @ forward artists
makeup Jamie Greenberg @ the wall group
manicurist Stephanie Stone @ forward artists
location The Little Door west hollywood, ca
029
Alexander McQueen pants
Helmut Lang top
Lulu DK Jewelry earrings
Vram Jewelry bracelets, rings
Azzedine Alaïa belt
[previous pages]
Agent Provocateur top
That Nguyen Atelier pants
Monika Chiang shoes
Vram Jewelry bracelet
Jacquie Aiche earrings
S-Team LA trench coat
Iro Paris belt