By Angie Palmer
Photography: David Yeo
Hidden behind that down-to-earth, you-must-be-f*cking-kidding-me persona she brings to many of her roles is, you've guessed it, a down-to-earth, you-must-be-f*cking-kidding-me, real-life, flesh-and-blood, sexy-as-hell funny lady who just happens to be the super-talented, smart-as-a-whip, witty and sardonic writer, producer and director of some of the best tv around. Oh and she also makes great movies!
Most of us know Sharon Horgan from the hit sit-com Catastrophe, which she co-wrote and starred in alongside Rob Delaney. Although calling this series a hit "sit-com" simply doesn't do it justice.
Behind the show's lighthearted humor and at times heavy themes, viewers can always spot the brilliant and genuinely honest voice of Sharon Horgan. "It's a bit of a relief. You get to do stuff on the page that you might not have dealt with in real life, you get to just like exhale it all out onto the page and it becomes something that you really treasure." But before there was Sharon Horgan the celebrated actress, writer, and chic business woman, there was Sharon Horgan the Irish turkey farmer. That's right, believe it or not, her original 13 minute short film, The Week Before Christmas, jam-packed full of dark humor and amusing commentary on adolescence, was based on her own offbeat childhood of plucking feathers on a turkey farm in Bellewstown County Meath, Ireland. It wasn't until her early twenties when she moved back to London to attend a variety of drama courses that her career in entertainment really took off, although not right away by any means. She describes these formative years as anything but straightforward. "I wasn't really part of any sort of group…I wasn't part of any scene, so I was very sort of out on a limb, not really part of anything. So that was a bit of a problem."
But regardless, she pressed on, "sort of (out of) pride, I suppose. I think at a certain stage, I decided I wasn't gonna go back to Ireland until I had something to go back with. So that was a tricky couple of years, not going back to Ireland because I felt sort of, mortified by my own situation…you want your family to be proud and wanting to feel like you sort of did something with your life." Although it wasn't just pride that helped her persevere but also her ability to retain her dreams. While attending classes she had a string of odd jobs including waitressing, working at a call center, and even managing a head shop in London's Camden Town. Perhaps these jobs, as well as her days as a young turkey farmer, are what gave her the unapologetic tone she consistently demonstrates throughout all of her work. When it comes to creating relatable comedy, it's important for a writer to actually have real life experiences under their belt where absurd things happen to them naturally. Horgan didn't have her career just handed to her, but ultimately her fearless decision to quit these odd jobs gave her the final push she needed. "It wasn't until I decided to cut that loose and sort of throw myself into the abyss that I kind of had to make it work because I didn't have any sort of financial safety net."

In the season 1 finale of Catastrophe, nine months pregnant Sharon lays in a romantic hotel bed next to her husband Rob on their wedding night. Rob clips the toenails on her swollen feet and jokingly comments about how unsexy the moment is, to which Sharon grows furious, calling him a "fucking duty bound boyscout" before storming, or rather waddling out of the room. Seconds later, Sharon is back, with her look of fury replaced with one of fear as she delivers the news to Rob that her water just broke. This may just be a fictional character Sharon Horgan created for the show, but it paints a particular picture of a fearless woman who is full of humour, grit and unabashed intensity. And this is exactly how one may describe the Emmy award nominated actress: a woman who is unapologetic when it comes to speaking her mind.
The synopsis goes something like this: 41-year-old Londoner Sharon has a one week fling with American Rob while on a business trip. When Sharon finds out she's pregnant with his child in the pilot episode, the two shock viewers with their decision to not only keep the baby, but get married and raise the child in London together; Rob moving across the world after a quick, and quite frankly, chaotic phone call. But the show is so much more than another dose of comedic relief for viewers. In fact, Horgan herself even accredits the show's success to its more innovative approach in the realm of comedy. She explains the early script-writing days with Rob as a string of questions raised at their writing table: "What are the parameters of comedy, how far can you push a certain subject and still make laughter around it? Is this going to make people feel uncomfortable or are they actually going to be relieved that you're addressing something in that way, if it could be really really brutally honest, would people like that? Or would people think we're monsters?"
Catastrophe explores a plethora of unspoken grievances that accompany pregnancy and marriage. From the cigarettes she can no longer smoke to the fact that this spontaneous one week stand may be her last shot at motherhood before time runs out on her biological clock, Horgan still manages to weave moments of pure humor into it all.
But even with an already highly successful career in comedy, Horgan and Delaney held off on the jokes almost entirely in the early stages of the show's creation, "we felt we really wanted to say something, something that we could get stuck into that wasn't sort of just fluff. And so right from the very first version of it, let's just not pull any punches, let's just make it as real as we possibly can. Let's make some absolutely real problems. So let's have terrible things happen to them and see how they deal with it." And that's exactly what the two have accomplished. Five seasons later, Catastrophe can be streamed in over 133 countries, and has gone on to win six Irish Film and Television Awards for Horgan's acting and writing, even winning the 2016 BAFTA TV Award for Best Comedy Writer.
Although Horgan is self-aware of her own bold career moves, she's never short on gratitude when it comes to the connections she's made along the way. When attending Brunel University to study English and American Studies, she met writer and producer Dennis Kelly, "meeting him in a youth theatre in my early days was a lucky break, I just didn't realize it at the time". The two started creating sketches for what would eventually be their series, Pulling. Although other people in the industry were skeptical in the beginning and discouraged the two, it was Harry Thompson who saw great potential in their work, "he just liked this sort of mental stuff we were writing…and he pitched that we write something more narrative, a sitcom and he got behind us and pushed us". Horgan's vision for the future of comedy was innovative to say the least, but all it really took at the end of the day was finding like-minded individuals who shared this same forward thinking.
In more recent years, Celia Mountford has been another person with a profound impact on Horgan's career. In 2010, Horgan starred in David Cross's black comedy, The Increasingly Poor Decisions of Todd Margaret immediately connecting with the show's executive producer, Celia Mountford. By this point, Horgan was already well-versed in the industry and had started her own production company, Merman, which at the time was under the umbrella of a larger company. When Horgan met Mountford, the two decided to collaborate on the third season of …Todd Margaret and together set out to get Merman standing on its own two feet. "And whilst we were sort of in that fledgling stage we just started reaching out to new, younger, mainly female, writers and show creators and it just kind of went from there. We knew that there was an opportunity to focus certainly in the beginning, in the early stages, mainly on sort of female writing and female sort of shows. Cause we felt like there was a huge discrepancy in the amount of shows that were created by male performers with the talent that we knew was out there. So we just went from there."
Already a strong role model for women, Merman is just another example of how Horgan demonstrates the future potential of women in the film and television industry. This even translates onto her on screen work, when asked what she looks for in a role in BAFTA Guru's 60 Seconds With… segment, she bluntly states, "non-girlfriend, non wife." But she advocates for women not just for the pure sake of equal opportunity but because she sees the outcome of pushing women in the industry as mutually beneficial to everyone. "It's so clear that female fronted, or female driven, or female story based content is not only wanted but it's needed and not only that but it's successful and it's economically successful."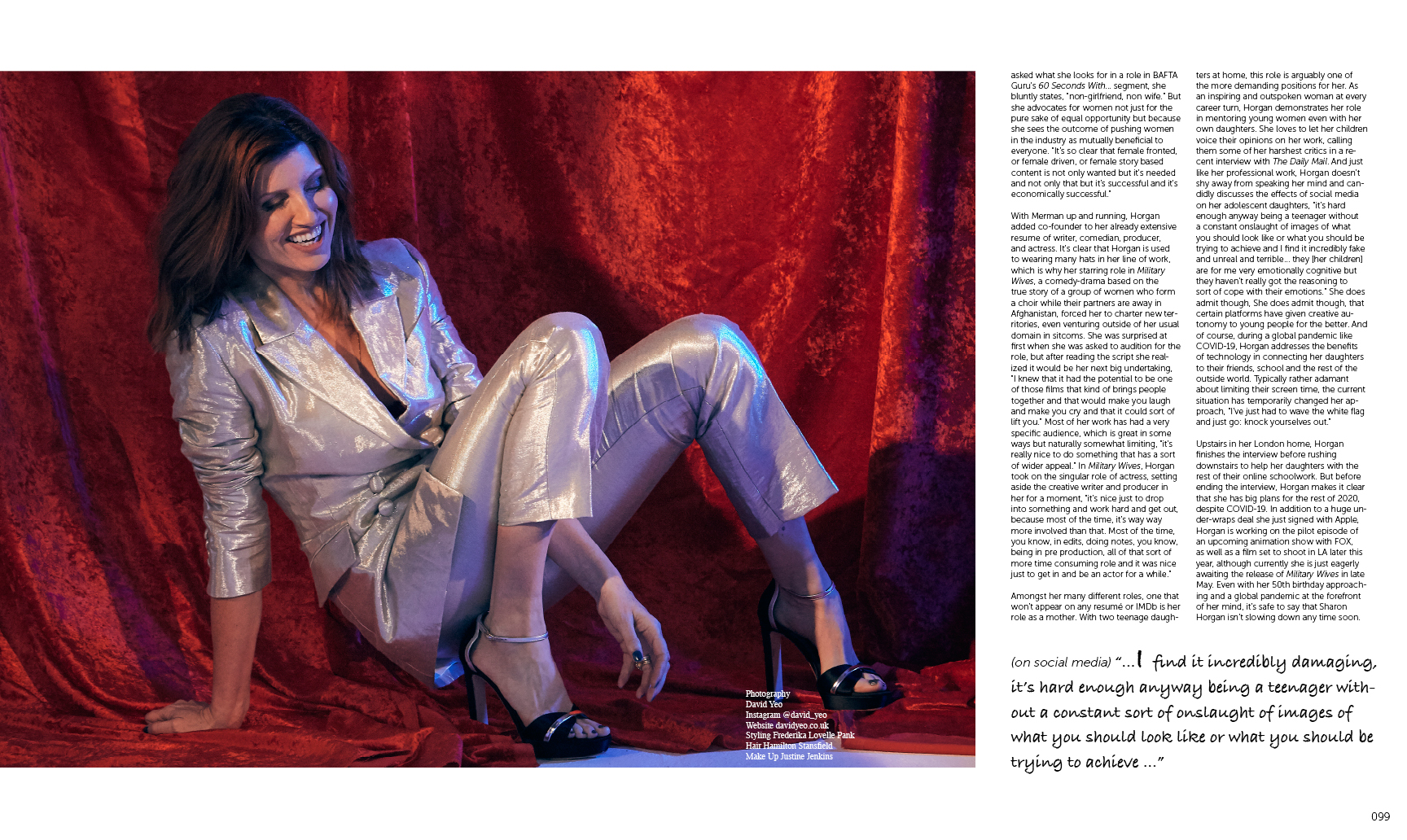 With Merman up and running, Horgan added co-founder to her already extensive resume of writer, comedian, producer, and actress. It's clear that Horgan is used to wearing many hats in her line of work, which is why her starring role in Military Wives, a comedy-drama based on the true story of a group of women who form a choir while their partners are away in Afghanistan, forced her to charter new territories, even venturing outside of her usual domain in sitcoms. She was surprised at first when she was asked to audition for the role, but after reading the script she realized it would be her next big undertaking, "I knew that it had the potential to be one of those films that kind of brings people together and that would make you laugh and make you cry and that it could sort of lift you." Most of her work has had a very specific audience, which is great in some ways but naturally somewhat limiting, "it's really nice to do something that has a sort of wider appeal." In Military Wives, Horgan took on the singular role of actress, setting aside the creative writer and producer in her for a moment, "it's nice just to drop into something and work hard and get out, because most of the time, it's way way more involved than that. Most of the time, you know, in edits, doing notes, you know, being in pre production, all of that sort of more time consuming role and it was nice just to get in and be an actor for a while."
Amongst her many different roles, one that won't appear on any resumé or IMDb is her role as a mother. With two teenage daughters at home, this role is arguably one of the more demanding positions for her. As an inspiring and outspoken woman at every career turn, Horgan demonstrates her role in mentoring young women even with her own daughters. She loves to let her children voice their opinions on her work, calling them some of her harshest critics in a recent interview with The Daily Mail. And just like her professional work, Horgan doesn't shy away from speaking her mind and candidly discusses the effects of social media on her adolescent daughters, "it's hard enough anyway being a teenager without a constant onslaught of images of what you should look like or what you should be trying to achieve and I find it incredibly fake and unreal and terrible… they [her children] are for me very emotionally cognitive but they haven't really got the reasoning to sort of cope with their emotions." She does admit though, She does admit though, that certain platforms have given creative autonomy to young people for the better. And of course, during a global pandemic like COVID-19, Horgan addresses the benefits of technology in connecting her daughters to their friends, school and the rest of the outside world. Typically rather adamant about limiting their screen time, the current situation has temporarily changed her approach, "I've just had to wave the white flag and just go: knock yourselves out."
Upstairs in her London home, Horgan finishes the interview before rushing downstairs to help her daughters with the rest of their online schoolwork. But before ending the interview, Horgan makes it clear that she has big plans for the rest of 2020, despite COVID-19. In addition to a huge under-wraps deal she just signed with Apple, Horgan is working on the pilot episode of an upcoming animation show with FOX, as well as a film set to shoot in LA later this year, although currently she is just eagerly awaiting the release of Military Wives in late May. Even with her 50th birthday approaching and a global pandemic at the forefront of her mind, it's safe to say that Sharon Horgan isn't slowing down any time soon.
Photography
David Yeo
Instagram @david_yeo
Website davidyeo.co.uk
Styling Frederika Lovelle Pank
Hair Hamilton Stansfield
Make Up Justine Jenkins