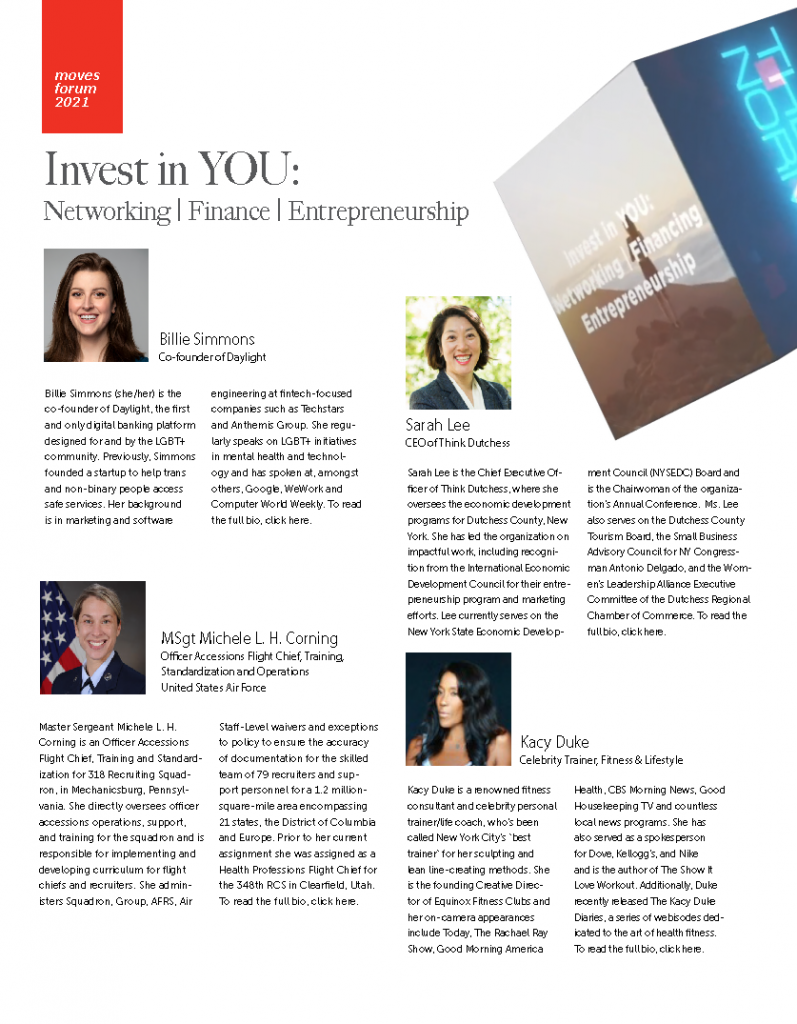 Moves Forum 2021 on the various ways we can maximize potential and best infuence and improve the current and future role of women.
KEYNOTE
Nancy Zimpher, SUNY Chancellor Emeritus
Nancy L. Zimpher is an American educator, state university leader, and former Chancellor of the State University of New York (SUNY). Prior to her service at SUNY, Zimpher was a dean and professor of education at Ohio State University (where she had earned her bachelors, masters and doctoral degrees); then Chancellor of the University of Wisconsin–Milwaukee between 1998 and 2003; and President of the University of Cincinnati from 2003 through May 2009. Zimpher was the first woman to serve as Chancellor of SUNY, UWM's first woman chancellor, and UC's first female president. To read the full bio, click here.
MODERATORS
Moonah Ellison, Publisher
Moonah Ellison is an entrepreneur, business professional, experienced magazine executive and woman—the perfect mix for publisher of New York Moves, the lifestyle magazine for the City career woman. Combine her limitless energy with a dynamic personality and you get the driving force behind the magazine. From building her own million dollar sales and marketing corporation in the UK, through developing a major government information magazine and website (including involvement with Tony Blair's Cabinet Office) to starting a totally innovative Interactive Television Marketing Corporation in the US, Ellison has built success on top of success. To read the full bio, click here.
Maya Eaglin Digital Reporter, Stay Tuned NBC
Maya Eaglin is a digital reporter for Stay Tuned, NBC's news brand for Generation Z available on Snapchat, Instagram, TikTok and YouTube. Previously, Eaglin was a news associate at NBC News where she worked on production for The Rachel Maddow Show and in the control room for Meet The Press Daily. She has also interned for NPR, NBC-WRC4 in Washington and NBC Nightly News with Lester Holt. Eaglin has received two Hearst Awards for her reporting in college, along with several recognitions from the Broadcast Education Association, Online Pacemaker and College Media Association. Originally from the Washington DC area, Eaglin holds a degree in journalism from Elon University in North Carolina. To read the full bio, click here.
Mariana Atencio TV Host, Author, Viral Speaker & Co-Founder GoLike.
Mariana Atencio is an award–winning journalist, best-selling author and viral speaker, as well as the co-founder of GoLike, a premium multimedia pro-duction company specializing in motivational story-telling. Her TEDx Talk on authenticity, "What Makes You Special?", is one of the Top 10 most-watched on YouTube and translated into 13 languages. Her book, Perfectly You, was an Amazon Best Seller and selected by Audible and AppleBooks. A former national TV host for NBC and Univision, and expert on resilience & diversity, she has been the keynote at the United Nations 'Girl Up' Summit, the LinkedIn annual conference alongside speakers like Michelle Obama. To read the full bio, click here.
Capitalism & Social Fairness
Emily Burnett, Founder, CEO, and Creative Director of BurnettWhite & Case
Emily Burnett is the Founder, CEO and Creative Director of BURNETT, the female-owned and operated luxury women's fashion label in New York City. Since its launch in 2018, BURNETT has participated in New York Fashion Week and is carried by top retailers such as Neiman Marcus and Moda Operandi. BURNETT has partnered with UNICEF's Girls Education Program as well as numerous other foundations to support women's initiatives worldwide. She graduated with high honors from Parsons School of Design with a BFA in Fashion Design and a BA in Cultural and Media Studies. Her designs have been featured in numerous publications including Vogue, WWD, Forbes, Harper's Bazaar, Vanity Fair, and W Magazine. To read the full bio, click here.
Charisse Evans, V.P. Employee Relations
Charisse Evans is Vice President of Employee Relations at Delta Airlines. Under her leadership, the Employee Relations Center of Excellence works to ensure the airline's policies and procedures are fair, transparent and consistent. She is also the company's executive sponsor of SHE, Delta's employee business resource group for women. Most recently as V.P., Customer Experience Integration, Evans was responsible for leading a multi-functional strategy for over 40,000 employees with a focus on driving a consistently great experience for customers. Evans also served as V.P., Reservation Sales and Customer Care for Delta, responsible for 10 customer engagement centers in four countries, staffed by 6,000 employees who handle an average of 32 million calls and 3 million social media contacts per year. To read the full bio, click here.
Lt Col. Whitney Jensen, United States Army, New York City, Recruiting Battalion Commander
Lt. Col. Whitney O. Jensen a Gilroy, California, native, enlisted into the U.S. Army Reserve on the Army's Birthday in 1996. A graduate of the University of South Alabama, she was commissioned as a second lieutenant in the Military Police Corps in 1999. She is currently the battalion commander for the New York City Recruiting Battalion. Previous key assignments include platoon leader, 21st Military Police Company (Airborne), Ft. Bragg; commander, 529th Military Police Company (Honor Guard) Heidelberg Germany; battalion S3 and executive officer, 504th Military Police Battalion, Ft. Lewis; and commander of the 502D Military Police Battalion (CID) at Ft. Campbell. To read the full bio, click here.
Cinema, Science & S T E A M: 'Sci-Fi Conundrum
Aicha Sharif , Dean of Rocket Club 
Aicha Sharif is the Dean of Rocket Club, the award-winning, global entrepreneurship, coding, and robotics academy for kids aged 7 to 14. Sharif's passion for her work started as a child when she worked on her family's farm in Morocco. She was the first female in her family to go to high school and eventually paid her way through college in England. She is Six Sigma and Hashin Kanri Certified and holds an MBA in Project Management and an MA in International Business from the London Business School. Sharif has also been an executive at companies like Inhabitr and 3M and is an active volunteer with the Arman Roy Foundation. To read the full bio, click here.
Lt. Col Annie Driscoll, Commander of Air Force, Recruiting Services Detachment 1
Lt. Col. Annie Kathleen Driscoll is the Commander, Headquarters Air Force Recruiting Service, Detachment 1 at Joint Base San Antonio-Randolph, Texas. As Commander, she leads a 500+ member Aviation Inspiration Mentorship team who inform, influence and inspire future Airmen to deliver twenty-first-century airpower. She manages the Air Forces $5.2M Rated Diversity Improvement campaign portfolio and leads the only Air Force branded solo flight academy targeted at increasing flight exposure and opportunity for underrepresented youth and is responsible for inspiring youth and identifying potential recruits. In June 2021, Lt. Col. Driscoll will take command of the 368th Recruiting Squadron at Hill AFB in Utah. To read the full bio, click here
Dakota Gorman, Actor, Writer & Director
Actor/director and current Moves cover Dakota Gorman makes her directorial debut in the Gravitas Ventures film, All About Sex, a generational film that follows the lives of three mid-20's friends caught in the grip of quarter-life crises as they meander through the messy, embarrassing and confusing pitfalls that come with "adulting." In addition to All About Sex, Gorman had produced the feature script for the horror/thriller, Aftermath. She is currently in pre-production, partner-ing once again with Nicole Rio of Salt & Light Films, to direct the screenplay, Late Bloomers, written by Sam Kozé & Gary Alan Wright. Gorman's acting credits include the shows Teen Wolf and Criminal Minds. To read the full bio, click here.
Melanie Hubert, Actor Writer
Melanie Hubert is a Canadian actress and writer and trained at the prestigious Armstrong Acting Studios in Toronto, Actors Imagi-nation Studio, and The Second City. Writing under the mentor-ship of Oscar-nominated writer Robin Swicord (The Curious Case Of Benjamin Button, Matilda, Memoirs Of A Geisha), Hubert is in the process of working on a screenplay that will see her real life struggles and triumphs brought to life on film. She also hosts a weekly podcast namely "This Blonde Can Talk" on which she discusses her passions such as football, sports entertainment, film, and pop culture. To read the full bio, click here.
Invest in YOU: Networking | Finance | Entrepreneurship
Billie Simmons, Co-founder of Daylight
Billie Simmons (she/her) is the co-founder of Daylight, the first and only digital banking platform designed for and by the LGBT+ community. Previously, Simmons founded a startup to help trans and non-binary people access safe services. Her background is in marketing and software engineering at fintech-focused companies such as Techstars and Anthemis Group. She regularly speaks on LGBT+ initiatives in mental health and technology and has spoken at, amongst others, Google, WeWork and Computer World Weekly. To read the full bio, click here.
MSgt Michele L. H. Corning, Officer Accessions Flight Chief, Training, Standardization and Operations United States Air Force
Master Sergeant Michele L. H. Corning is an Officer Accessions Flight Chief, Training and Standardization for 318 Recruiting Squadron, in Mechanicsburg, Pennsylvania. She directly oversees officer accessions operations, support, and training for the squadron and is responsible for implementing and developing curriculum for flight chiefs and recruiters. She administers Squadron, Group, AFRS, Air Staff-Level waivers and exceptions to policy to ensure the accuracy of documentation for the skilled team of 79 recruiters and sup-port personnel for a 1.2 million-square-mile area encompassing 21 states, the District of Columbia and Europe. Prior to her current assignment she was assigned as a Health Professions Flight Chief for the 348th RCS in Clearfield, Utah. To read the full bio, click here.
Sarah Lee, CEO of Think Dutchess
Sarah Lee is the Chief Executive Officer of Think Dutchess, where she oversees the economic development programs for Dutchess County, New York. She has led the organization on impactful work, including recognitions from the International Economic Development Council for their entrepreneurship program and marketing efforts. Lee currently serves on the New York State Economic Development Council (NYSEDC) Board and is the Chairwoman of the organization's Annual Conference. Ms. Lee also serves on the Dutchess County Tourism Board, the Small Business Advisory Council for NY Congress-man Antonio Delgado, and the Women's Leadership Alliance Executive Committee of the Dutchess Regional Chamber of Commerce. To read the full bio, click here.
Kacy Duke, Celebrity Trainer, Fitness & Lifestyle
Kacy Duke is a renowned fitness consultant and celebrity personal trainer/life coach, who's been called New York City's "best trainer" for her sculpting and lean line-creating methods. She is the founding Creative Director of Equinox Fitness Clubs and her on-camera appearances include Today, The Rachael Ray Show, Good Morning America Health, CBS Morning News, Good Housekeeping TV and countless local news programs. She has also served as a spokesperson for Dove, Kellogg's, and Nike and is the author of The Show It Love Workout. Additionally, Duke recently released The Kacy Duke Diaries, a series of webisodes dedicated to the art of health fitness. To read the full bio, click here.
2021: The Challenges of Social Change & Tolerant Values
Deborah Rosado Shaw, Trusted Advisor, Strategist, Coach
Before establishing the Rosado Shaw Group, LLC. in 2004, Deborah Rosado Shaw started and grew a multimillion-dollar international merchandising company with customers like Costco, Walmart, and The Walt Disney Company. Most recently, she was PepsiCo's SVP, Chief Global Diversity & Engagement, serving 260,000 associates in 200 countries and territories. She established what has been deemed their "most successful wom-en's leadership initiative to date" and founded the company's Global Transformational Leadership Program. She also spearheaded the strategy for the Global Women's Initiative, which includes a $100 million dollar commitment from PepsiCo to impact 12.5 million women and girls around the world. To read the full bio, click here.
SFC Patricia Morgan, U.S. Army Healthcare Recruiter
Army Sergeant First Class Patricia Morgan was born in St. Ann, Jamaica WI and migrated to the United States at age 13. She attended high school in Rochester, New York before joining the U.S. Army in January 1999. Upon graduation, Morgan then attended Advance Individual Training at Red-stone Arsenal, AL for Military Occupational Spe-cialty training Ammunition Specialist. She was lat-er assigned to the Ft. Lee, VA where she separated from active duty. SFC Morgan later rejoined the National Guard before moving to Germany and has served over seven years in the Army Reserve in various units as a Human Resources Specialist. She has been serving as an Army Recruiter and a Healthcare Recruiter since 2013. To read the full bio, click here.