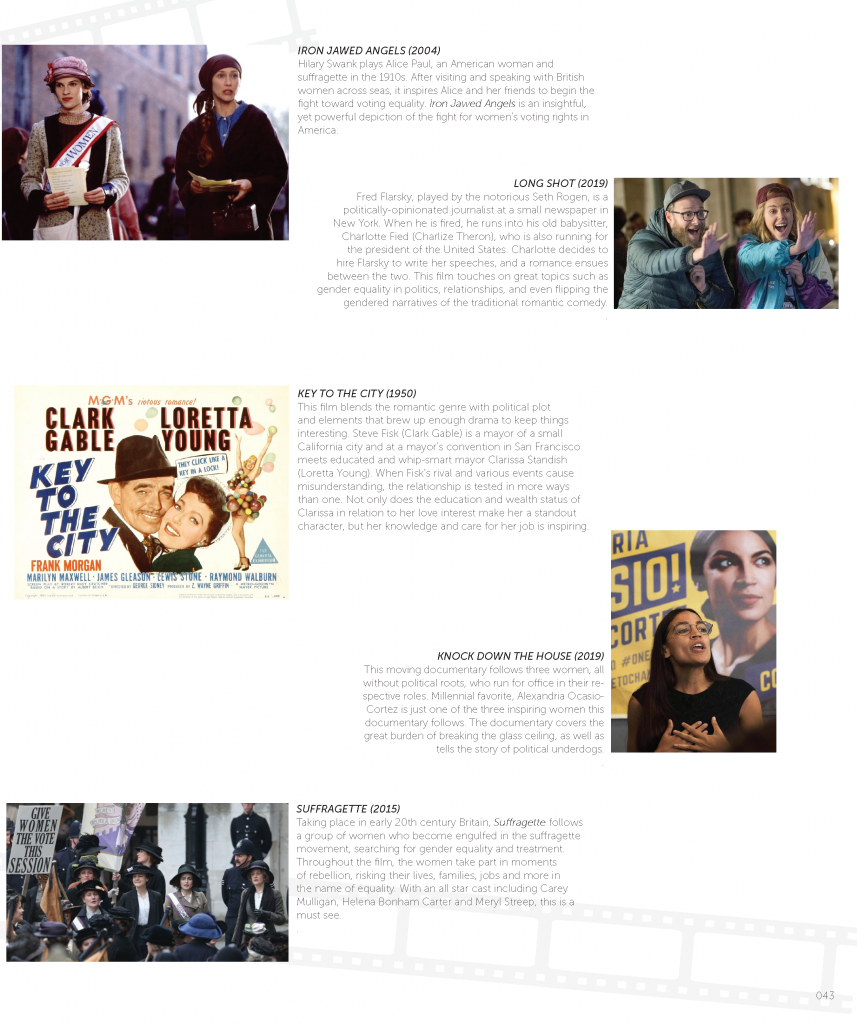 MISS SLOANE (2016)
Jessica Chastain plays hardened, yet determined lobbyist Elizabeth Sloane in this timely drama directed by John Madden. Known for bending the rules, Miss Sloane is one of the most powerful and desired lobbyists in Washington DC. However, when a client comes to her and asks her to oppose a bill that imposes regulations on firearms, she decides on the opposite. She decides to partner up with the law supporters, and finally fight for justice in a system which is full of corruption.
THE IRON LADY (2011)
In this Oscar award-winning film, Meryl Streep is Margaret Thatcher, once prime minister of England who is ridding herself of her deceased husbands' belongings with the help of his ghostly presence. As a result, Thatcher finds herself reflecting on her girlhood and her political life as a woman. Thatcher was a feminist pioneer in that she paved the way for British women to hold office, as well as prove that women can be just as successful in politics as men.
ON THE BASIS OF SEX
Following the life of the beloved late Ruth Bader Ginsburg, this biopic offers an insight into the trials and tribulations Ginsburg faced becoming one of the first women at Columbia law, a pioneer for women's rights, and the first woman to become a supreme court justice. Emotional as it is political, this film is a great ode to such a memorable and important figure in American history.
MISS REPRESENTATION (2011)
If you are looking for a wholly-encompassing documentary about feminism, go for Miss Representation. It is a documentary which offers insight from Katie Couric, Rachel Maddow, and Gloria Steinem amongst others on the issues women face on a day to day basis, not just in politics. Want the facts, statistics and history? This is the film for you!
KISSES FOR MY PRESIDENT (1964)
One of the first films representing women in a political role, Kisses For My President represented a historical shift in modernity as well. With more women becoming aware of their rights, or lack thereof, there became a push for women taking control of their bodies and lives. At the precipice of the second wave of feminism, this is a comedy about the first female president, and her husband who are both grappling with new and uncharted territories.
IRON JAWED ANGELS (2004)
Hilary Swank plays Alice Paul, an American woman and suffragette in the 1910s. After visiting and speaking with British women across seas, it inspires Alice and her friends to begin the fight toward voting equality. Iron Jawed Angels is an insightful, yet powerful depiction of the fight for women's voting rights in America.
LONG SHOT (2019)
Fred Flarsky, played by the notorious Seth Rogen, is a politically-opinionated journalist at a small newspaper in New York. When he is fired, he runs into his old babysitter, Charlotte Fied (Charlize Theron), who is also running for the president of the United States. Charlotte decides to hire Flarsky to write her speeches, and a romance ensues between the two. This film touches on great topics such as gender equality in politics, relationships, and even flipping the gendered narratives of the traditional romantic comedy.
KEY TO THE CITY (1950)
This film blends the romantic genre with political plot and elements that brew up enough drama to keep things interesting. Steve Fisk (Clark Gable) is a mayor of a small California city and at a mayor's convention in San Francisco meets educated and whip-smart mayor Clarissa Standish (Loretta Young). When Fisk's rival and various events cause misunderstanding, the relationship is tested in more ways than one. Not only does the education and wealth status of Clarissa in relation to her love interest make her a standout character, but her knowledge and care for her job is inspiring.
KNOCK DOWN THE HOUSE (2019)
This moving documentary follows three women, all without political roots, who run for office in their respective roles. Millennial favorite, Alexandria Ocasio-Cortez is just one of the three inspiring women this documentary follows. The documentary covers the great burden of breaking the glass ceiling, as well as tells the story of political underdogs.
SUFFRAGETTE (2015)
Taking place in early 20th century Britain, Suffragette follows a group of women who become engulfed in the suffragette movement, searching for gender equality and treatment. Throughout the film, the women take part in moments of rebellion, risking their lives, families, jobs and more in the name of equality. With an all star cast including Carey Mulligan, Helena Bonham Carter and Meryl Streep, this is a must see.