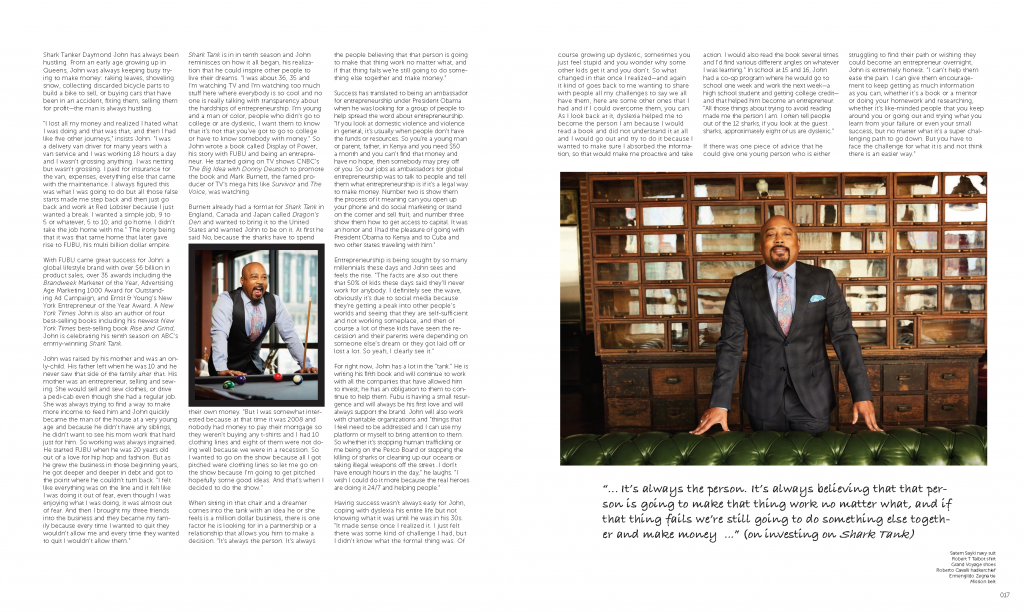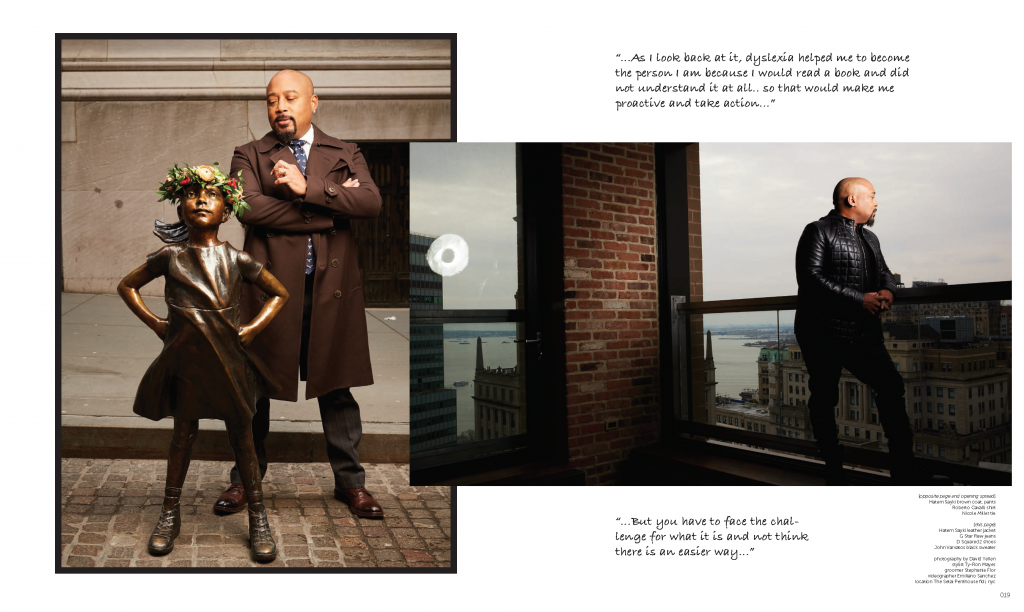 Shark Tanker Daymond John has always been hustling. From an early age growing up in Queens, John was always keeping busy trying to make money: raking leaves, shoveling snow, collecting discarded bicycle parts to build a bike to sell, or buying cars that have been in an accident, fixing them, selling them for profit—the man is always hustling.
"I lost all my money and realized I hated what I was doing and that was that, and then I had like five other journeys," insists John. "I was a delivery van driver for many years with a van service and I was working 18 hours a day and I wasn't grossing anything. I was netting but wasn't grossing. I paid for insurance for the van, expenses, everything else that came with the maintenance. I always figured this was what I was going to do but all those false starts made me step back and then just go back and work at Red Lobster because I just wanted a break. I wanted a simple job, 9 to 5 or whatever, 5 to 10, and go home. I didn't take the job home with me." The irony being that it was that same home that later gave rise to FUBU, his multi billion dollar empire.
With FUBU came great success for John: a global lifestyle brand with over $6 billion in product sales, over 35 awards including the Brandweek Marketer of the Year, Advertising Age Marketing 1000 Award for Outstanding Ad Campaign, and Ernst & Young's New
York Entrepreneur of the Year Award. A New York Times John is also an author of four best-selling books including his newest New York Times best-selling book Rise and Grind, John is celebrating his tenth season on ABC's emmy-winning Shark Tank.
John was raised by his mother and was an only-child. His father left when he was 10 and he never saw that side of the family after that. His mother was an entrepreneur, selling and sewing.
She would sell and sew clothes, or drive a pedi-cab even though she had a regular job.
She was always trying to find a way to make more income to feed him and John quickly became the man of the house at a very young age and because he didn't have any siblings, he didn't want to see his mom work that hard just for him. So working was always ingrained.
He started FUBU when he was 20 years old out of a love for hip hop and fashion. But as he grew the business in those beginning years, he got deeper and deeper in debt and got to the point where he couldn't turn back. "I felt like everything was on the line and it felt like I was doing it out of fear, even though I was enjoying what I was doing, it was almost out of fear. And then I brought my three friends into the business and they became my family because every time I wanted to quit they wouldn't allow me and every time they wanted to quit I wouldn't allow them."
Shark Tank is in in tenth season and John reminisces on how it all began, his realization that he could inspire other people to live their dreams. "I was about 36, 35 and I'm watching TV and I'm watching too much stuff here where everybody is so cool and no one is really talking with transparency about the hardships of entrepreneurship. I'm young and a man of color, people who didn't go to college or are dyslexic, I want them to know that it's not that you've got to go to college or have to know somebody with money." So John wrote a book called Display of Power, his story with FUBU and being an entrepreneur.
He started going on TV shows CNBC's The Big Idea with Donny Deutsch to promote the book and Mark Burnett, the famed producer of TV's mega hits like Survivor and The Voice, was watching.
Burnett already had a format for Shark Tank in England, Canada and Japan called Dragon's Den and wanted to bring it to the United States and wanted John to be on it. At first he said No, because the sharks have to spend their own money. "But I was somewhat interested because at that time it was 2008 and nobody had money to pay their mortgage so they weren't buying any t-shirts and I had 10 clothing lines and eight of them were not doing well because we were in a recession. So I wanted to go on the show because all I got pitched were clothing lines so let me go on the show because I'm going to get pitched hopefully some good ideas. And that's when I decided to do the show."
When sitting in that chair and a dreamer comes into the tank with an idea he or she feels is a million dollar business, there is one factor he is looking for in a partnership or a relationship that allows you him to make a decision. "It's always the person. It's always the people believing that that person is going to make that thing work no matter what, and if that thing fails we're still going to do something else together and make money."
Success has translated to being an ambassador for entrepreneurship under President Obama when he was looking for a group of people to help spread the word about entrepreneurship.
"If you look at domestic violence and violence in general, it's usually when people don't have the funds or resources. So you're a young man or parent, father, in Kenya and you need $50 a month and you can't find that money and have no hope, then somebody may prey off of you. So our jobs as ambassadors for global entrepreneurship was to talk to people and tell them what entrepreneurship is if it's a legal way to make money. Number two is show them the process of it meaning can you open up your phone and do social marketing or stand on the corner and sell fruit, and number three show them how to get access to capital. It was an honor and I had the pleasure of going with President Obama to Kenya and to Cuba and two other states traveling with him."
Entrepreneurship is being sought by so many millennials these days and John sees and feels the rise. "The facts are also out there that 50% of kids these days said they'll never work for anybody. I definitely see the wave, obviously it's due to social media because they're getting a peak into other people's worlds and seeing that they are self-sufficient and not working someplace, and then of course a lot of these kids have seen the recession and their parents were depending on someone else's dream or they got laid off or lost a lot. So yeah, I clearly see it."
For right now, John has a lot in the "tank." He is writing his fifth book and will continue to work with all the companies that have allowed him to invest; he has an obligation to them to continue to help them. Fubu is having a small resurgence and will always be his first love and will always support the brand. John will also work with charitable organizations and "things that I feel need to be addressed and I can use my platform or myself to bring attention to them.
So whether it's stopping human trafficking or me being on the Petco Board or stopping the killing of sharks or cleaning up our oceans or taking illegal weapons off the street…I don't have enough hours in the day," he laughs. "I wish I could do it more because the real heroes are doing it 24/7 and helping people."
Having success wasn't always easy for John, coping with dyslexia his entire life but not knowing what it was until he was in his 30s.
"It made sense once I realized it. I just felt there was some kind of challenge I had, but I didn't know what the formal thing was. Of course growing up dyslexic, sometimes you just feel stupid and you wonder why some other kids get it and you don't. So what changed in that once I realized—and again it kind of goes back to me wanting to share with people all my challenges to say we all have them, here are some other ones that I had and if I could overcome them, you can.
As I look back at it, dyslexia helped me to become the person I am because I would read a book and did not understand it at all and I would go out and try to do it because I wanted to make sure I absorbed the information, so that would make me proactive and take action. I would also read the book several times and I'd find various different angles on whatever I was learning." In school at 15 and 16, John had a co-op program where he would go to school one week and work the next week—a high school student and getting college credit—and that helped him become an entrepreneur.
"All those things about trying to avoid reading made me the person I am. I often tell people out of the 12 sharks, if you look at the guest sharks, approximately eight of us are dyslexic."
If there was one piece of advice that he could give one young person who is either struggling to find their path or wishing they could become an entrepreneur overnight, John is extremely honest. "I can't help them ease the pain. I can give them encouragement to keep getting as much information as you can, whether it's a book or a mentor or doing your homework and researching, whether it's like-minded people that you keep around you or going out and trying what you learn from your failure or even your small success, but no matter what it's a super challenging path to go down. But you have to face the challenge for what it is and not think there is an easier way."
"… It's always the person. It's always believing that that person is going to make that thing work no matter what, and if that thing fails we're still going to do something else together and make money …" (on investing on Shark Tank)