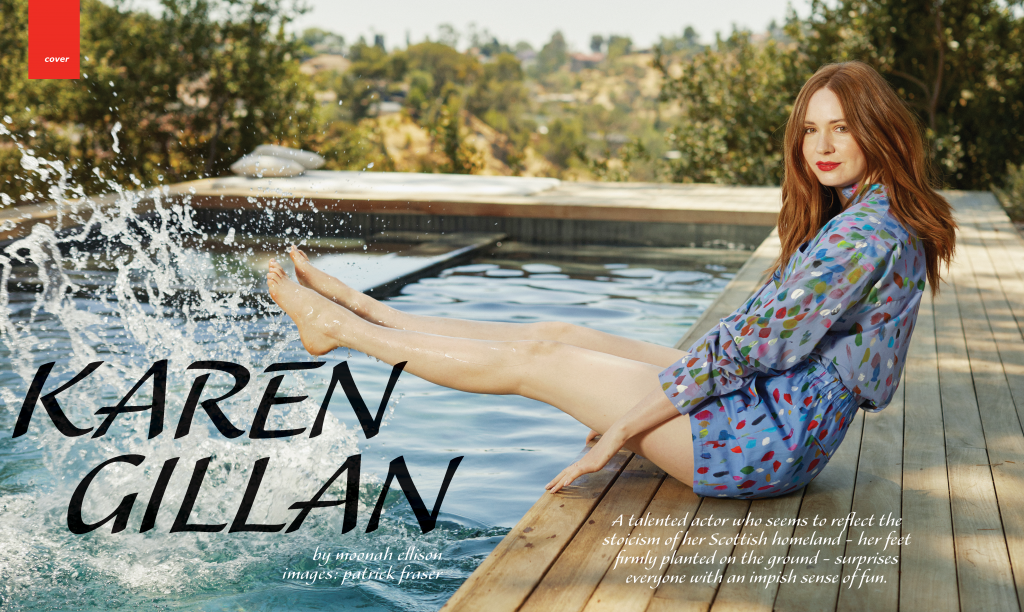 By Moonah Ellison
Images: Patrick Fraser
A talented actor who seems to reflect the stoicism of her Scottish homeland – her feet firmly planted on the ground – surprises everyone with an impish sense of fun.
Actor Karen Gillan and I are best friends. Well, for the first few minutes of our conversation we could've been. Our UK connection is strong while sarcastic banter ensued and we found ourselves longing for home. But the coffee klatch can wait as we move on to more pressing things, like her new films. To start, Gillan has the lead role in Gunpowder Milkshake, an action thriller also starring Paul Giamatti, Angela Bassett, Lena Headey, and Michelle Yeoh. In it, Gillan plays an assassin in a tale of revenge. The film has a release date of July 14 on Netflix. She will also reprise her role as Nebula in the upcoming Marvel films Thor: Love and Thunder and Guardians of the Galaxy Vol. 3 set for 2022 and 2023 releases respectively.
Gunpowder Milkshake has a Tarantino quality to it, a true Kill Bill vibe. When Gillan started reading the script she knew she had to do the film based on the action sequences. "I was really excited, I think it's just the way everything is written," she insists. "It felt really original and inventive and just really creative. The imagery that the words were conjuring up was amazing and I thought a lot different from what I've seen in the action space." She ran to her agents to get a meeting with the director Navot Papushado and they sat down and talked about it and knew it was going to be something really special.
Then there's the film Dual, an upcoming science-fiction thriller about a woman dying from a terminal illness who clones herself. The film also stars Breaking Bad's Aaron Paul and The Social Network's Jesse Eisenberg and has no release date. Gillan also wrapped up the Judd Apatow film The Bubble which she recently finished filming and has a release date of this year or the beginning of next. "That was amazing and so much fun and I'm so excited to see it. I think it's hilarious." The cast includes Fred Armisen, David Duchovny, Keegan-Michael Key, Leslie Mann, and Pedro Pascal. The film follows a group of actors stuck inside a pandemic bubble at a hotel attempting to complete a film. No release date has been set.
The Scottish-born Gillan is a familiar face. We all know her from the Marvel Universe as Nebula but for her big break, she played Amy Pond from 2010-2013, the Eleventh Doctor's companion on the legendary BBC science fiction series Doctor Who. Gillan won over six awards for the role including the Cosmopolitan 'Women of the Year' Award, an SFX Award, a TV Choice Award, and others. "It was such a special time for me. It really was and yeah remember I was so young and it was really one of the first jobs I had gotten and it felt like such a miracle. I feel like I've been plucked from obscurity." She also starred in the action films Jumanji: Welcome to the Jungle (2017) and Jumanji: The Next Level (2019) opposite Dwayne "The Rock" Johnson, Jack Black, and Kevin Hart.
Gillan is relaxed. I'm speaking with her while her family is in town—the town being LA—and they're obsessed with Turtle, Gillan's new dog. "They literally called themselves grandparents. They're having a whale of a time." She feels like she's meant to be East Coast, basically because "it just feels like it's halfway home in a way and it's more of my vibe. I can be a pedestrian there. I'm not like a beach girl you know." Strapped with time during the Covid pandemic, Gillan has a tip for all you would-be cooks and top chefs out there: when making pizza never substitute monk fruit for sugar. "I was trying to be healthy and it just tasted horrible. So that didn't go so well."
She grew up in the Kinmylies area of Inverness in Scotland and attended Kinmylies Primary School. At 16 she decided to go to Edinburgh to take an acting course at Telford College. London soon followed as Gillan studied briefly at the Italia Conti Academy of Theatre Arts. Sketch comedy on The Kevin Bishop Show, a horror project titled The Well on the BBC Two, and a few other short stinson television paved the way for her breakout in Doctor Who. Gillan credits her parents for her success, saying their support made all the difference. "I feel like I sort of won the lottery with my parents because they were just so supportive. My dad would be like "okay so if you want to do this you need to have a lot of drive because it's an extremely competitive field.' He'd explain to me examples of driven people so I had a good grasp of what I needed to do in order to get somewhere and I think that really helped."
 Gillan's passion is directing. (She wrote and directed her first short film, Coward, that played at the 2015 Edinburgh Film Festival as well as another short film called Conventional.) She fell in love with directing when she was a child. Her parents gave her a video camera and she would make horror films in her house. It was hard because she didn't have any editing tools. "What I had to do was hit record, shoot the scene, and then hit pause, and then shoot the next scene. And if anything was wrong, I had to go to the beginning. So when I was making my own movie with professional camera men and editing tools, I thought this was easy."
Down the line she liked to take a stab at "one slightly unexplored territory for me so far it's just the purely dramatic space. I mean I have done that in small Indies but I'd like to do that more just because it feels like done a lot of sci-fi and a fair bit of comedy, it would be nice to just flex the dramatic muscles because that's sort of what I started off doing in Scotland, studying theater and it would be cool to revisit that, but I also love comedy so much in fact just as much. So some more comedy would be cool too."
In addition to the premieres and future releases and all her past acting accolades and awards and nominations, Gillan has an activism side and is always championing worthwhile causes, one specifically being mental health awareness. In 2018, she visited the Mikeysline crisis support centre in Inverness After showing her film The Party's Just Beginning, a film about the suicide rate in the Scottish Highlands, she visited the Mikeysline crisis support center in Inverness and is now a supporter as well as an ambassador.
As for the future and if she is going to become a United States citizen, Gillan would settle down all over the world. "I haven't even thought about citizenship," insists Gillan. "I don't know. I find myself floating around a lot and every time I go to a country I want to move there so it's happened in every country I've gone to so far. So I don't know where I'm going to end up, apparently, I just want to end up in an old cottage in Scotland maybe." 
Once again I find Gillan is… relaxed.
East Coast – "… it just feels like it's halfway home in a way and it's more of my vibe. I can be a pedestrian there. I'm not like a beach girl you know…"