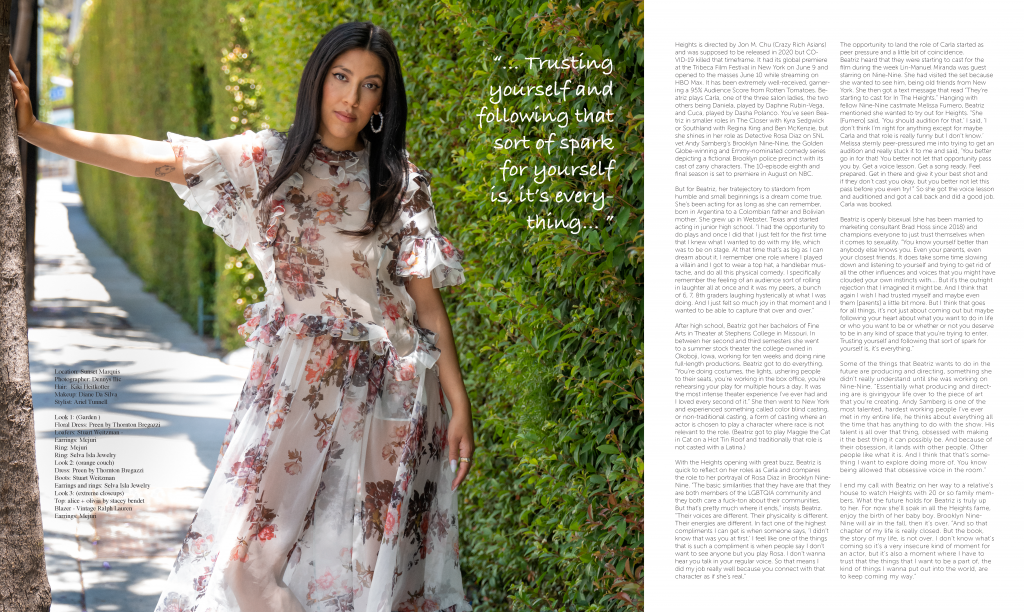 By Yvette Chen
Photograhy: Dennys Ilic
There are things about New York that are so special and that cannot be found anywhere else.
The vibe of the city, the energy of the city, the lights, the museums, the eclectic mix of people all condensed in one very small space, and the history of New York City, it really is like no other place in the world. To hear Stephanie Beatriz wax poetic about our fair city is a breath of fresh air and everything we need after a disastrous and catastrophic 2020.
As things slowly start to open again, the timing is oh so right for the highly-anticipated movie version of In The Heights, the 2008 Broadway smash hit musical by Lin-Manuel Miranda (Hamilton uberfame) and a book by Quiara Alegría Hudes. It was nominated for thirteen Tony Awards that year and won four, including Best Musical. Heights follows the lives of residents in the largely Dominican Washington Heights section of Upper Manhattan's West Side.
Heights is directed by Jon M. Chu (Crazy Rich Asians) and was supposed to be released in 2020 but COVID-19 killed that timeframe. It had its global premiere at the Tribeca Film Festival in New York on June 9 and opened to the masses June 10 while streaming on HBO Max. It has been extremely well-received, garnering a 95% Audience Score from Rotten Tomatoes. Beatriz plays Carla, one of the three salon ladies, the two others being Daniela, played by Daphne Rubin-Vega, and Cuca, played by Dasha Polanco. You've seen Beatriz in smaller roles in The Closer with Kyra Sedgwick or Southland with Regina King and Ben McKenzie, but she shines in her role as Detective Rosa Diaz on SNL vet Andy Samberg's Brooklyn Nine-Nine, the Golden Globe-winning and Emmy-nominated comedy series depicting a fictional Brooklyn police precinct with its cast of zany characters. The 10-episode eighth and final season is set to premiere in August on NBC.
"… Trusting yourself and following that sort of spark for yourself is, it's everything…"
But for Beatriz, her tratejectory to stardom from humble and small beginnings is a dream come true. She's been acting for as long as she can remember, born in Argentina to a Colombian father and Bolivian mother. She grew up in Webster, Texas and started acting in junior high school. "I had the opportunity to do plays and once I did that I just felt for the first time that I knew what I wanted to do with my life, which was to be on stage. At that time that's as big as I can dream about it. I remember one role where I played a villain and I got to wear a top hat, a handlebar mustache, and do all this physical comedy. I specifically remember the feeling of an audience sort of rolling in laughter all at once and it was my peers, a bunch of 6, 7, 8th graders laughing hysterically at what I was doing. And I just felt so much joy in that moment and I wanted to be able to capture that over and over."
After high school, Beatriz got her bachelors of Fine Arts in Theater at Stephens College in Missouri. In between her second and third semesters she went to a summer stock theater the college owned in Okoboji, Iowa, working for ten weeks and doing nine full-length productions. Beatriz got to do everything. "You're doing costumes, the lights, ushering people to their seats, you're working in the box office, you're rehearsing your play for multiple hours a day. It was the most intense theater experience I've ever had and I loved every second of it." She then went to New York and experienced something called color blind casting, or non-traditional casting, a form of casting where an actor is chosen to play a character where race is not relevant to the role. (Beatriz got to play Maggie the Cat in Cat on a Hot Tin Roof and traditionally that role is not casted with a Latina.)
With the Heights opening with great buzz, Beatriz is quick to reflect on her roles as Carla and compares the role to her portrayal of Rosa Diaz in Brooklyn Nine-Nine. "The basic similarities that they have are that they are both members of the LGBTQIA community and they both care a fuck-ton about their communities. But that's pretty much where it ends," insists Beatriz. "Their voices are different. Their physicality is different. Their energies are different. In fact one of the highest compliments I can get is when someone says, 'I didn't know that was you at first.' I feel like one of the things that is such a compliment is when people say I don't want to see anyone but you play Rosa. I don't wanna hear you talk in your regular voice. So that means I did my job really well because you connect with that character as if she's real."
The opportunity to land the role of Carla started as peer pressure and a little bit of coincidence. Beatriz heard that they were starting to cast for the film during the week Lin-Manuel Miranda was guest starring on Nine-Nine. She had visited the set because she wanted to see him, being old friends from New York. She then got a text message that read "They're starting to cast for In The Heights." Hanging with fellow Nine-Nine castmate Melissa Fumero, Beatriz mentioned she wanted to try out for Heights. "She [Fumero] said, 'You should audition for that.' I said, 'I don't think I'm right for anything except for maybe Carla and that role is really funny but I don't know.' Melissa sternly peer-pressured me into trying to get an audition and really stuck it to me and said, 'You better go in for that! You better not let that opportunity pass you by. Get a voice lesson. Get a song ready. Feel prepared. Get in there and give it your best shot and if they don't cast you okay, but you better not let this pass before you even try!'" So she got the voice lesson and auditioned and got a call back and did a good job. Carla was booked.
Beatriz is openly bisexual (she has been married to marketing consultant Brad Hoss since 2018) and champions everyone to just trust themselves when it comes to sexuality. "You know yourself better than anybody else knows you. Even your parents, even your closest friends. It does take some time slowing down and listening to yourself and trying to get rid of all the other influences and voices that you might have clouded your own instincts with…. But it's the outright rejection that I imagined it might be. And I think that again I wish I had trusted myself and maybe even them [parents] a little bit more. But I think that goes for all things, it's not just about coming out but maybe following your heart about what you want to do in life or who you want to be or whether or not you deserve to be in any kind of space that you're trying to enter. Trusting yourself and following that sort of spark for yourself is, it's everything."
Some of the things that Beatriz wants to do in the future are producing and directing, something she didn't really understand until she was working on Nine-Nine. "Essentially what producing and directing are is giving your life over to the piece of art that you're creating. Andy Samberg is one of the most talented, hardest working people I've ever met in my entire life, he thinks about everything all the time that has anything to do with the show. His talent is all over that thing, obsessed with making it the best thing it can possibly be. And because of their obsession, it lands with other people. Other people like what it is. And I think that that's something I want to explore doing more of. You know being allowed that obsessive voice in the room."
I end my call with Beatriz on her way to a relative's house to watch Heights with 20 or so family members. What the future holds for Beatriz is truly up to her. For now she'll soak in all the Heights fame, enjoy the birth of her baby boy. Brooklyn Nine-Nine will air in the fall, then it's over. "And so that chapter of my life is really closed. But the book, the story of my life, is not over. I don't know what's coming so it's a very insecure kind of moment for an actor, but it's also a moment where I have to trust that the things that I want to be a part of, the kind of things I wanna put out into the world, are to keep coming my way."
"… And I think that that's something I want to explore doing more of. You know, being allowed that obsessive voice in the room… "