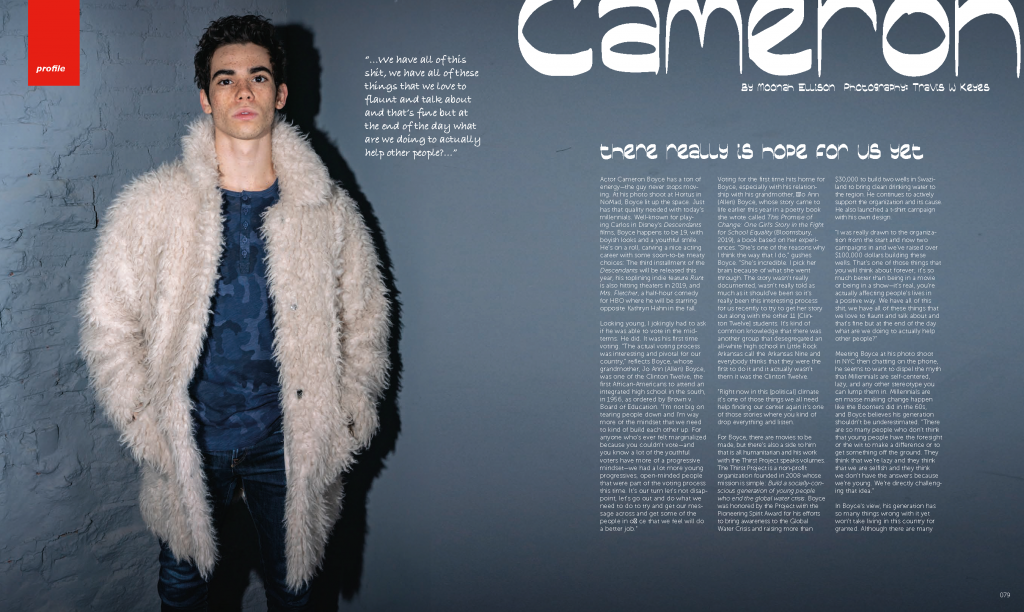 ".We have all of this shit, we have all of these things that we love to flaunt and talk about and that's fine but at the end of the day what are we doing to actually help other  people?."
Actor Cameron Boyce has a ton of energy–the guy never stops moving. At his photo shoot at Hortus in NoMad, Boyce lit up the space. Just has that quality needed with today's millennials. Well-known for playing Carlos in Disney's Descendants films, Boyce happens to be 19, with boyish looks and a youthful smile. He's on a roll, carving a nice acting career with some soon-to-be meaty choices: The third installment of the Descendants will be released this year, his toplining indie feature Runt is also hitting theaters in 2019, and Mrs. Fletcher, a half-hour comedy for HBO where he will be starring opposite Kathryn Hahn in the fall.
Looking young, I jokingly had to ask if he was able to vote in the midterms. He is and he did. It was his first time voting. "The actual voting process was interesting and pivotal for our country," reflects Boyce, whose grandmother, Jo Ann (Allen) Boyce, was one of the Clinton Twelve, the first African-Americans to attend an integrated high school in the south, in 1956, as ordered by Brown v. Board of Education. "I'm not big on tearing people down and I'm way more of the mindset that we need to kind of build each other up. For anyone who's ever felt marginalized because you couldn't vote–and you know a lot of the youthful voters have more of a progressive mindset–we had a lot more young progressives, open-minded people that were part of the voting process this time. It's our turn let's not disappoint, let's go out and do what we need to do to try and get our message across and get some of the people in office that we feel will do a better job."
Voting for the first time hits home for Boyce, especially with his relationship with his grandmother, Jo Ann (Allen) Boyce, whose story came to life earlier this year in a poetry book she wrote called This Promise of Change: One Girl's Story in the Fight for School Equality (Bloomsbury, 2019), a book based on her experiences. "She's one of the reasons why I think the way that I do," gushes Boyce. "She's incredible. I pick her brain because of what she went through. The story wasn't really documented, wasn't really told as much as it should've been so it's really been this interesting process for us recently to try to get her story out along with the other 11 [Clinton Twelve] students. It's kind of common knowledge that there was another group that desegregated an all-white high school in Little Rock Arkansas call the Arkansas Nine and everybody thinks that they were the first to do it and it actually wasn't them it was the Clinton Twelve.
"Right now in this [political] climate it's one of those things we all need help finding our center again it's one of those stories where you kind of drop everything and listen.
For Boyce, there are movies to be made, but there's also a side to him that is all humanitarian and his work with the Thirst Project speaks volumes. The Thirst Project is a non-profit organization founded in 2008 whose mission is simple: Build a socially-conscious generation of young people who end the global water crisis. Boyce was honored by the Project with the Pioneering Spirit Award for his efforts to bring awareness to the Global Water Crisis and raising more than $30,000 to build two wells in Swaziland to bring clean drinking water to the region. He continues to actively support the organization and its cause. He also launched a t-shirt campaign with his own design.
"I was really drawn to the organization from the start and now two campaigns in and we've raised over $100,000 dollars building these wells. That's one of those things that you will think about forever; it's so much better than being in a movie or being in a show–it's real, you're actually affecting people's lives in a positive way. We have all of this shit, we have all of these things that we love to flaunt and talk about and that's fine but at the end of the day what are we doing to actually help other people?" 
Meeting Boyce at his photo shoot in NYC then chatting on the phone, he seems to want to dispel the myth that Millennials are self-centered, lazy, and any other stereotype you can lump them in. Millennials are en masse making change happen like the Boomers did in the 60s, and Boyce believes his generation shouldn't be underestimated. "There are so many people who don't think that young people have the foresight or the wit to make a difference or to get something off the ground. They think that we're lazy and they think that we are selfish and they think we don't have the answers because we're young. We're directly challenging that idea."
In Boyce's view, his generation has so many things wrong with it yet won't take living in this country for granted. Although there are many problems we all face, sometimes you have to catch yourself and appreciate your surroundings. "The way we live is so easy and we're so privileged and we have all of these things and we're so spoiled and there are so many problems that we would even consider problems that it's pretty crazy," says Boyce.
Many social and economical topics concern Boyce. He's astonished at the greed of the one-percenters and finds it crazy how the middle and lower class take up a majority of the population yet there are so many people who have this insane amount of money and power. It's not hard to see how this wouldn't concern someone who hasn't turn 20 yet. What world are we leaving them, the next generations with sky high debt, endless wars, shrinking Middle Class, and so many social issues. 
Whatever happens the first realization for Boyce is our addiction to technology, the phone and its apps for one. Part of the social media machine—he has over 7 million followers on Instagram—Boyce feels it's important to disengage every now and then.
"We have the world in our pockets and I found myself going to an app, going to Instagram because it's a habit. It's so hard for us nowadays to pull ourselves out of that because we're so far deep into this world where everything is readily available. It's important to constantly be aware of things that are happening that maybe don't directly affect you, but you just sort of want to know because it's there. Social media is the driver of our entire society whether you like it or not so we have to be careful with this stuff, it's crazy."
Right now Boyce is filming Mrs. Fletcher, and, along with Runt, should bring his acting credentials to the next level and out of the Disney universe. Runt is a thriller about a group of troubled high school seniors that are pulled into a downward cycle of violence. Mrs. Fletcher, based on Tom Perotta's bestselling novel, is a dual coming-of-age comedy about an empty nest divorcée played by Hahn. Boyce plays Zack, the college roommate of Hahn's son Brendan, played by Owen Teague.
"It's just really cool to be around these people because coming from the Disney world, which is just so politically correct and doesn't necessarily reflect my values. To do stuff that's more gripping and sort of challenging makes me very happy to be a part of it."