"It's strange that a man can live with a woman for ten years and not know the first thing about her." The Letter takes place on a rubber plantation on the outskirts of Singapore. Everything is ideal and serene until the night is ripped apart by a gunshot committed by Leslie Crosbie (Bette Davis). Davis gives a stellar performance as the femme fatale with her complex portrayal of a passionate woman who kills her lover and torments her tycoon husband. Davis's nails the noir genre conveying a character that is both a victim and malevolent wife.
.
.
.
.
.
WHATEVER HAPPENED TO BABY JANE? (1962):
This film is infamous for serval reasons: one of them being that the film was the center of a massive feud between Bette Davis and her co-star Joan Crawford. Crawford and Davis could barely stand each other and continued to bad mouth one another to the press. The plot of the film revolves around a former child star who torments her paraplegic sister in their decaying Hollywood mansion. Davis created her own makeup for the lead role of "Baby Jane" Hudson, which perfectly highlighted the deranged nature of the character. Baby Jane sparked a genre of crazy lady psychological thrillers.
.
.
ALL ABOUT EVE (1950):
All About Eve is widely considered to be one of the greatest films of all time. Bette Davis plays Margo Channing, who is a respected, aging, Broadway star. Channing's career is threatened by an adoring woman named Eve Harrington, who is suspiciously trying to take Channing's career and personal relationship. The film received a record 14 Academy Award nominations and won six, including Best Picture. It is still the only film in history to receive four female acting nominations. The nominees include leads Bette Davis and Anne Baxter, and best-supporting actors, Celeste Holm and Theresa Ritter
.
.
.
THE CATERED AFFAIR (1956):
Bette Davis stars as an embittered housewife named Agnes Hurley, who's married to a Bronx cab driver. She's a disheveled woman who thinks highly of herself and wants more for her daughter, played by Debbie Reynolds, who makes her on-screen debut in this film. The film deals with the ensuing money troubles and conflicts within the family, and Agnes is not connected with the reality of the situation and wants to focus on an expensive wedding ceremony for her daughter.
.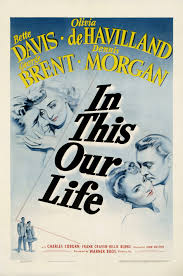 .
IN THIS OUR LIFE (1942):
This film was the third of six films that Olivia de Havilland and Bette Davis starred in together. Davis plays Stanley, who rivals her sister Roy, played by de Havilland, in both romance and life. The night before her wedding, Stanley runs off with Roy's husband, Peter. The two marry and settle in Baltimore, but she ultimately drives her sister's husband to drinking and suicide. When she returns home, she finds out that her sister has taken up with an old flame of hers. Not one to be outdone, Stanley tries to steal her former flame back from her sister and continues to wreak havoc on her family.
.
.
.
.
.THE VIRGIN QUEEN (1955):
Bette Davis plays Elizabeth I at the height of her reign, conveying the middle-aged virgin queen as a brutal, manipulative, and terrifying monarch. This historical drama focused on the relationship between Elizabeth I of England and Sir Walter Raleigh and was also the second time Davis played the English monarch. The Queen falls for Sir Walter and doesn't want him to leave even though he falls in love with the beautiful Beth Throgmorton played by Joan Collins.
.
.
.
.
.
.
NOW, VOYAGER (1942):
Bette Davis is a Boston heiress named Charlotte Vale, who is a neurotic mess, primarily because of her domineering mother. After a short time in a sanatorium, she receives the attention of Dr. Jasquith. The psychiatrist aids Vale's recovery and transformation into a modern, attractive, and glamorous woman, thus freeing herself from tyrannical shackles of her overbearing mother. The film ranks at #23 in AFI's 100 Greatest Love Stories of All Time. Davis' closing line in the movie, "Oh, Jerry, don't let's ask for the moon… we have the stars!" is at #46 in AFI's Greatest Movie Quotes of All Time.
.
.
.
.
JEZEBEL (1938):
This film would be Bette Davis' second and last Oscar-winning performance, and this film may have made up for the fact that she missed out on the lead for Gone With the Wind. Davis plays a headstrong young Southern woman during the Antebellum period in 1852 New Orleans. Her character, Julie Marsden, is engaged to banker Preston "Pres" Dillard, and she sabotages the relationship with her behavior and spends the rest of the film trying to gain him back.
.
.
.
.
THE WHALES OF AUGUST (1987):
Bette Davis and Lillian Gish play elderly sisters near the end of their lives who never really grew close. At a seaside house in Maine where they annually spend their summers, the setting allows issues that took place in their youth to resurface, and open up jealousies and misunderstandings that slowly festered over the years. This film would be the second to last of Davis's career, and when it screened at the 1987 Cannes Film Festival, which Gish attended, she got a 10-minute standing ovation.
.
.
.
.
.
DECEPTION (1946):
Bette Davis stars as a piano teacher who believes that her fiancé was killed on the battlefield. When her dead lover miraculously returns, they decide to marry, but a rebound love affair hinders her during his supposed death. For Davis, Deception marked the end of her Golden Age and was the last of the great Bette Davis/Warner Bros.collaborations.